From kombucha to mochi: shopping with a Millennial
---
The world's biggest cities are magnets for internationally-mobile, highly-educated people like Russian-born Ksenia, aged 27, who lived in Norway and Italy before moving to London three years ago. Food explorers like Ksenia – who is trying to eat healthily "without obsessing about it" – have driven the fragmentation of markets and the emergence of new brands. NNB shopped along with Ksenia at the Kensington, London branch of Whole Foods Market, the "El Dorado" of retailers for healthier food and beverage start-ups.
---
"I only come here about once a month, it's a treat," says Ksenia of Whole Foods Market. "I know most things are overpriced and I can't afford to do my groceries here every week, so I come to get special things or products I can't find anywhere else, plus it's always exciting to see new brands and taste the samples."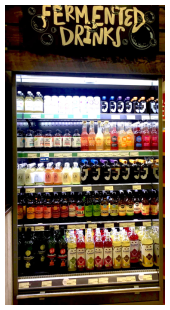 Before we shop, we eat at Whole Foods' "food stall market" where Ksenia chooses tofu to go in her wok bowl. She says she is not vegetarian nor vegan, but is "getting all my protein from fish and natural stuff like beans, I'm avoiding dairy because it makes me bloated and meat too.
"But I don't usually have any of those vegan burgers or other 'meat' type of products," she adds, "because I ate it once and got a really bad allergic reaction to it, which didn't surprise me when I saw the long list of ingredients they have! I prefer to keep it simple".
Once in the main supermarket, the options are many, from a hot meal buffet to a wine tasting bar area and a fish section with "amazing presentation". "I come here for specific things, but it's always nice to see what else is new," says Ksenia.
We pass the meat section, where Parma ham and a variety of meat snacks are displayed: "Nowadays I rarely eat meat but I think this is one of the few places where you know exactly where the meat is coming from, so if anything I would buy it from here," she says.
The large dairy section boasts brands not often found in mainstream retailers. "I want to get a vegan cream cheese that I can find here and sometimes in other organic shops, I tasted it in a vegan festival and it was really good, the best one I've had! Plus, it's from this small island in Scotland, so I'm sure they use good ingredients," says Ksenia. Like most other plant-based cheese alternatives the first ingredient is coconut oil. "So is coconut oil ok? I've heard it's very healthy but also read somewhere that it's not as healthy as people think."
Next we pass shelves full of kefir and other probiotic beverages. "Did you know that kefir is traditionally from Russia? I'll try this one since I don't want the normal dairy ones," Ksenia explains as she grabs a coconut milk probiotic drink.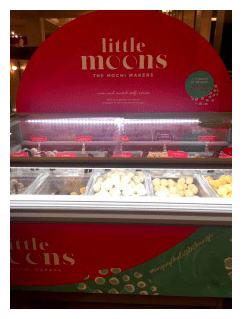 We scan through the breakfast cereals and snack aisles, where Ksenia notices a courgette and cacao granola but leaves it because "granola is so easy to make, I make my own all the time". Dried mango and pineapple snacks make it into her basket: "They are naturally sweet from the fruit so a good treat, of course it's super expensive but I don't buy it all the time, just when I come to Whole Foods because they have the organic ones".
As we're heading to the check-out we notice a buffet of mochi, the small ice-cream balls covered in a chewy glutinous rice layer. "I love mochi!" Ksenia exclaims, filling her tray with various flavours.
Next we consider a great wall of kombucha drinks. "Do you know if it's really good for you? Doesn't it have lots of sugar in it? Is it made from juice?" Ksenia asks. "Well, I guess I can always try it and see if I feel a difference."
Shopping done, Ksenia admits she's "so looking forward to trying these things, I can't believe how excited I feel about having new foods and products!"
In Ksenia's basket:
Little Moon Mochi
Sheese 100% dairy-free chive cream "cheese"
Biomel dairy-free probiotic coconut milk drink
Equinox kombucha
Tropical Wholefoods organic dried mango
Recent blogs