Brain health has become big business as consumers seek products to give them an edge, to reduce stress, and to stave off dementia as they age. Food and beverage companies are wrestling with how to participate in this market. New Zealand start-up Arepa is focusing on locally-sourced, science-backed ingredients in its brain health drink and it aims to become a billion-dollar brand.
---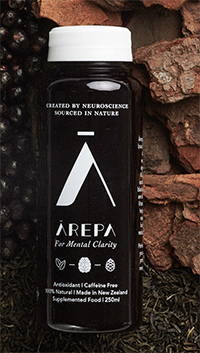 Brain-enhancing supplements have been around for decades, but they have become increasingly sought-after as the health and wellness industry has matured, with consumers looking for benefits beyond physical health. Such products – technically known as "nootropics", or substances designed to improve cognition – promise to improve memory, mental clarity, alertness or concentration, but nootropic drinks often rely on the effects of caffeine, and many are high in sugar.
Arepa founder and CEO Angus Brown acknowledges caffeine is good for alertness, staying awake and improving reaction time, but says it does nothing to reduce stress. He wanted to create a drink to provide mental clarity as well as calmness, supporting a frame of mind he describes as being in a state of flow, or in the zone. Brown had read about how people had higher alpha brain wave activity when in this state – which led to the name of the company; alpha in the M?ori language is Arepa.
"Developing a brain drink is really quite complex. It's not like developing a drink for hydration," he told New Nutrition Business. "It could be relaxation, it could be alertness, it could be happiness, it could be reaction time – I decided to focus on state of flow."
Brown's eureka moment happened when he was working for a major energy drink company, after having spent six years at The FoodBowl, a New Zealand government-backed initiative intended to promote value-added foods and ingredients on the world stage.
"I was in a shop one day and I remember watching a kid walk out with one of those big 710ml cans, and I thought, 'Am I doing any good here?' I'd just lost a grandma to early Alzheimer's and then another to stroke. I asked myself, 'What if you could make a brain drink? What would a brain drink look like?'"
NEW ZEALAND BIOACTIVES
The beverage company he was working for rejected the idea, so he started working on it himself. Brown enlisted the help of a neuroscientist in Melbourne, Australia and supplied a long list of requirements. "I didn't want to add another caffeinated drink onto the market – we wanted it to relieve stress," he said. "On the other end of the spectrum, sedatives like alcohol and valerian root are relaxants but make you sleepy."
It also had to be natural, effective, and have at least one New Zealand-sourced bioactive ingredient.
"We wanted something unique to us that we can produce and have a story about. I think the story is very important," Brown said. "He came back to us with something with New Zealand blackcurrant."
As well as the blackcurrant, which has high levels of polyphenols and anthocyanins – compounds with an antioxidant effect – the Arepa formula includes a New Zealand pine bark extract called Enzogenol, which is rich in flavonoids. In small-scale studies, Enzogenol and New Zealand blackcurrant both have shown promise for cognitive performance, although more research is needed to prove their efficacy.
"Enzogenol is a family business. It's traditionally used as an alternative to Ritalin for kids with ADHD here in New Zealand and for people who have had a stroke," Brown said.
In addition, the drink contains L-theanine, extracted from Japanese green tea, which researchers have shown to increase alpha brain wave activity.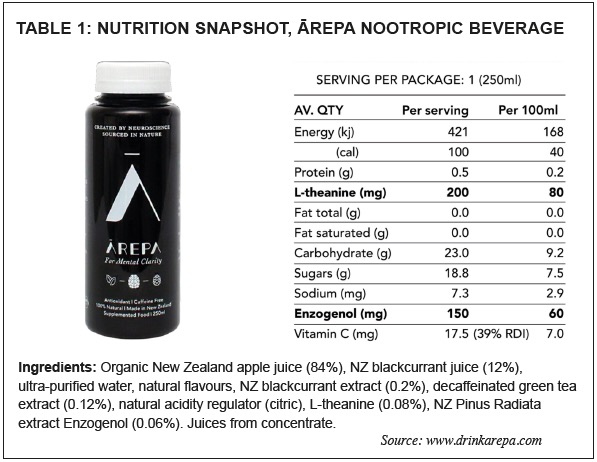 "When you combine all three, you get a synergy," he said.
Brown says he is certain that the drink has a real effect, although he is still waiting for the results of clinical trials to prove it.
"The reason alcohol, caffeine, cigarettes are so popular is they have a noticeable effect," he said. "We have found something that can produce a real time-felt effect within about 20 minutes, which is why we are so confident."
The company aims to appeal to a broad cross-section of consumers, including students, stressed professionals, elite sportspeople and LOHAS (lifestyles of health and sustainability) consumers, such as those who are interested in health and wellness, yoga and mindfulness.
"The drink and formula is to be used 20 minutes before you want mental clarity, so it might be before an exam, a board meeting or before you do some meditation or yoga."
Brown describes the drink's flavour as a silky combination of cinnamon, clove and blackcurrant. "It's like mulled wine but when you drink it you know it's healthy," he said. "…We want to be like the iPhone and continue releasing improved versions of the product."
Version one is based on organic apple juice and blackcurrant juice, and although the only sugars are those that occur naturally in the juice, Brown said the company was developing a version 2.0 with less sugar, "just to get over that hurdle that some people have". The company also worked with a flavour technologist to mask the bitterness of the pine bark extract.
BIGGER THAN NOOTROPICS
"Our longer term goal is to be a billion dollar brand, to be the world's most iconic brain health brand," Brown said. "We believe that we are bigger and wider than the nootropic space. Nootropics are more for the lifestyle consumer…Our applications and interests are spanning wider into neurocognitive health for the elderly and for people as they age."
Arepa's sales goals may be lofty, but Brown says the company is off to a flying start.
"Our retail growth is at 300% month on month and our online at 40% month on month, and we would like to be turning over at least $20 million within five years," he said.
To ensure the scalability of its products, the company has partnered with one of the largest New Zealand blackcurrant growers and the supplier of Enzogenol pine bark extract.
"We wanted something that was special and unique to New Zealand. We are quite proud to be from New Zealand so we are always going to look at New Zealand ingredients and do research to prove that point of difference," he said.
BRAIN BENEFITS ON THE GO
Beyond the drink itself, Arepa also makes three auxiliary products: a powder, capsules and freeze dried blackcurrants. Bought online, the drink is priced between NZ$6.00 ($4.04/€3.61) and NZ$6.99 ($4.70/€4.21) per 250ml unit, depending on the size of the order, while the powder sells at $35.99 ($24.22/€21.66) for 30 servings, and a 30-pack of capsules is priced at $32.95 ($22.17/€19.83). A 180-gram jar of dried blackcurrants costs $33.99 ($22.87/€20.45).
"Our proposition is New Zealand natural plant-based mental clarity," Brown said. "People can have that as a tasty drink, or in a smoothie or on top of their cereal, or when they are travelling as capsules. Then with the berries, a small handful gives your brain a bit of zing, and you can eat them like nuts."
The products are available in about 100 supermarkets, 30 health food stores and 50 cafes in New Zealand after launching last year at two high-end stores, Farro Fresh and Huckleberry in the nation's largest city, Auckland. The company also exports a small amount to a specialist health food store in Hong Kong.
"Our philosophy is to start at the top of the pyramid," Brown said. "…We found the more stressed or caffeinated or more nervous the individual, the bigger the effect was of our product. So we decided to market to people in those moments, so in hospital cafes, student cafes and corporate cafes. We have a hospital that sells more than one of the biggest supermarkets."
Looking forward, the company aims to enter the Australian market next, and is weighing up whether to go into Asia or the United States after that. For now, it is focusing on social media and creating a culture around the brand in-store and at events.
"With beverages, you can create a culture around them," Brown said. "You never really see a music festival sponsored by a nut bar. Beverages are a kind of Trojan horse."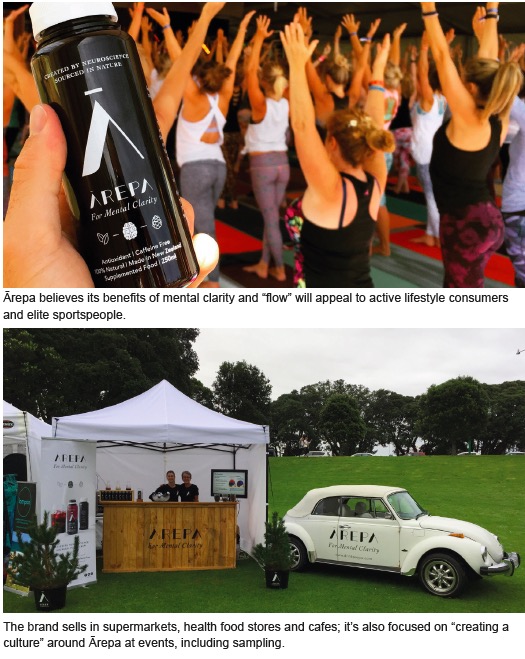 ---
BOX: New Zealand provenance mean real benefits for black currants
Provenance – whether it's French wine or Greek yogurt – is very attractive to consumers. Everyone likes knowing about where their food comes from, and provenance is something every brand wants to work into its marketing.
Sometimes provenance can be more than a nice story and pleasant images – the place where a food originates is the very reason that a food tastes the way it does or offers specific benefits. Take New Zealand blackcurrants, one of the three base ingredients in Arepa. They're said to have particularly high levels of anthocyanins and vitamin C thanks to the country's strong sunlight with high UV levels, making them an emerging science-based ingredient with applications in mood and cognitive health.
The New Zealand-grown Ben Ard variety, for example, contains higher levels of anthocyanins than all other commercially grown varieties available internationally, according to the New Zealand Blackcurrant Co-operative. "This is the preferred variety of health supplement and functional food applications," it says.
Much of the credit for pinpointing the health benefits of New Zealand blackcurrants goes to New Zealand's Plant and Food Research - an internationally recognized research institute with a focus on high value crops. It is assessing the natural phytochemical compounds in berries to identify those that deliver additional benefits for health, particularly in the areas of oxidative stress, inflammation and immunity, and cognitive performance and anxiety.
A new study by scientists at Plant & Food Research, for example, has found that an extract from New Zealand blackcurrants could offer benefits for people with an active lifestyle.
The study, just published in Frontiers in Nutrition, contributes to the mounting research around the benefits of anthocyanin-rich New Zealand blackcurrants for exercise recovery and post-exercise immune function.
According to this study, the benefits are unlikely to be attributable to the antioxidant properties of the extract and more likely due to the blackcurrant extract activating adaptive defensive pathways in cells and tissues.
A separate pilot trial explored the effects of a New Zealand blackcurrant supplement on immune function, which can be compromised following prolonged or intense exercise. The researchers looked at neutrophils – the body's first line of defence against infection – and found that consumption of New Zealand blackcurrant extract one hour prior to exercise preserved circulating neutrophil function, a potential immunity benefit for active people.
Previous studies by the team at Plant & Food Research found that New Zealand blackcurrants could promote a positive mood and the desire to exercise for longer. In a 2018 study, scientists at Plant & Food, in collaboration with Northumbria University (UK), found that consumption of juice made from New Zealand blackcurrants can produce a short-term effect on physiological processes which may be associated with a positive mood. A second study showed that New Zealand blackcurrant juice consumption before exercise increased the desire to exercise for longer.
The first study, published in the journal Nutritional Neuroscience, showed a complete reduction in the activity of monoamine oxidase-B (MAO-B) – an enzyme that degrades the 'happiness' hormone dopamine – within 45 minutes of consumption of a New Zealand blackcurrant juice, before slowly returning to near baseline levels 24 hours later.

Taken from the New Nutrition Business August 2019 Edition