Mothers have always been a driving force behind the success of brands and retail outlets. But with the emergence of the natural, organic and healthy products segments, moms, especially new moms, have become the ultimate gateway consumer for brands and retailers aiming at this category. There is plenty of data that underscores their importance, according to Lisa Mabe, founder of GreenPurse PR, a specialty research and public relations consultancy.
"Connecting with pregnant and new moms (80% of whom are millennials) is a gateway to a super-motivated type of consumer, many of whom become 'new converts' into natural and organic products," she told Kids Nutrition Report. Reinforcing this idea, the Baby Center's 2015 State of Modern Motherhood Report noted that 63% of new mothers are changing their grocery, food and beverage purchase criteria. The biggest change is that they start buying organic.
"These first-time moms represent a window of opportunity for both retailers and brands to catch a customer on the cusp of a new life stage—preferably while they are still pregnant, and who they can potentially keep as loyal customers for a long time to come," Mabe said.
New moms and pregnant women become super focused on being healthy for their developing infant and this changes their criteria, not only for the foods they eat, but also across product categories, such as the chemicals used in clothing they purchase for themselves and their infant and the personal care products they use. "Many stop coloring their hair or painting their nails to try to limit the amount of potential toxins on their body," she noted.
Age doesn't really matter. "Although there is a lot of current focus on millennial moms, I prefer to focus on new moms, whatever age they are," Mabe explained. "They can be 22, 32 or 45. The experience they go through in pregnancy and becoming a mom creates this sort of epiphany that is similar no matter what age they are."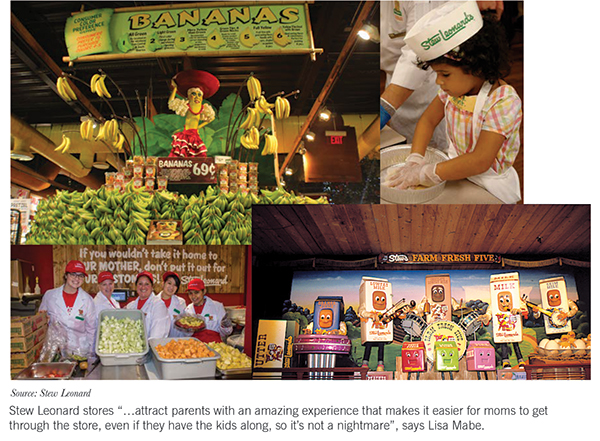 These trends, along with research Mabe has gathered and her own experiences as a millennial mom, inspired her to put together a list of best practices and quick-start ideas to help her clients hone in on these important consumers. Mabe prefers to focus on alternative, personal research methods that she says are more conducive to garnering authentic, candid feedback from moms. Mabe recently discussed her list with KNR and fleshed out these tactics with examples, tips and caveats:
1. Go shop-along – regularly shop with mothers to understand how they think, behave and buy in your category. Shopping with health-conscious moms is by far Mabe's favourite way to hone in on these consumers for several reasons, noting that it's fun, useful and provides amazing feedback. This can be very useful for companies experiencing specific issues, she explained. For example, if the company is seeing declining sales with a specific grocer, say Whole Foods Markets, it can set up a shop-along with women who are already buying their product at Whole Foods or likely to. "If I am moderating the shop-along, I usually give the customers an assignment like 'look for a healthy weekday meal' or 'find something to cleanse your beauty routine,'" she explained. Along the way, you can see what other products draw their attention, and chat with the customer informally on the spot. Shopping with these customers can be a temperature check on how products fit into their lifestyle and routine. "You can also learn things that will impact the way you communicate with customers—what blogs they read, what Instagram feeds they follow," she said.
Mabe recommends that brand managers be involved in the shop-along, but it's important to use a moderator who feels comfortable relating to customers. Groups of between 10 and 35 shoppers work well, and it's a good idea to allow moms to shop as they normally would, so they should bring the kids along if they want.
As with any market research, there is a tendency for customers to tell you what they think you want to hear, noted Mabe, but, she added, "moms tend to be more candid and honest in the context of shopping—there are no other intimidating moms in the room stating they buy all organic or make their baby food from scratch." This is where a moderator who relates well to customers is critical.
The shop-along can also be valuable in understanding cultural differences of mom customers in different markets. For example, OBE Organic Beef in Brisbane, Australia, did a shop-along to better understand how customers in Dubai and New York perceived their products and their presentation in retail outlets, noted CEO Dalene Wray. The company was specifically interested to hear if they liked branding on packages of meat, and if the package included the most critical information. With a small budget for promotional posts on social media, Wray also wanted to ensure messaging was focusing on the most critical information regarding the meat, livestock, production and food safety. "We know that it is near impossible to deliver all this information in one short snappy promoted post on Facebook, so we used the shop-along research to try to determine the most important attributes to current consumers of our beef in overseas markets."
2. Speak directly to moms – produce Mom-centric content to fuel your website and social media. Creating content that is of interest to your target audience seems like a no-brainer. It is also easier said than done, but worth doing well, Mabe said. One of the key returns of producing good content is if it is share worthy, it can help fuel website visits and social media efforts. Mabe defines shareable content as information designed specifically for moms that is both visual and useful. Addressing questions that new moms have about diet and nutrition in pregnancy or limiting chemicals from products they use can make great checklists that moms will want to share with their friends and peer group. "Moms like to see well-researched information that they can trust, and then share it with their peers to be a resource and thought leader among their friends." However, there is a fine line between good content and information that is sermonizing, she added. "People don't like to be preached to but moms want to do a good job, and when they find a product that is well-researched and works, they will latch on to it and become a super advocate."
Once Upon a Farm, a San Diego-based maker of cold-pressed, organic baby food has seen the value of producing mom-centric content from its inception. It doesn't hurt that their blog – called Once Upon a Blog – is written by company co-founder and mom Cassandra Curtis. Curtis said it covers a variety of topics of interest to moms, from recipes using their fresh baby food to her own insights into the challenges of being a mom and running your own business. Big topics that got lots of engagement have included "Top 10 tips for getting your baby to sleep through the night" and "Making teething biscuits." Curtis added that she gets ideas for the blog from her personal experience but also by brainstorming with other moms and addressing the questions and comments she gets from customers.
It is well worth the effort, Curtis noted. "We get loyalty from customers who understand that we are coming from an authentic, mom-to mom place that they can relate to. They feel connected to the brand because they know the people behind it. It also gives them a level of trust for the brand, especially when we do educational topics that involve researched information. They can see we are devoting resources and using evidence-based information to make our products and to back the flavours and processes behind them, so they feel they can trust us."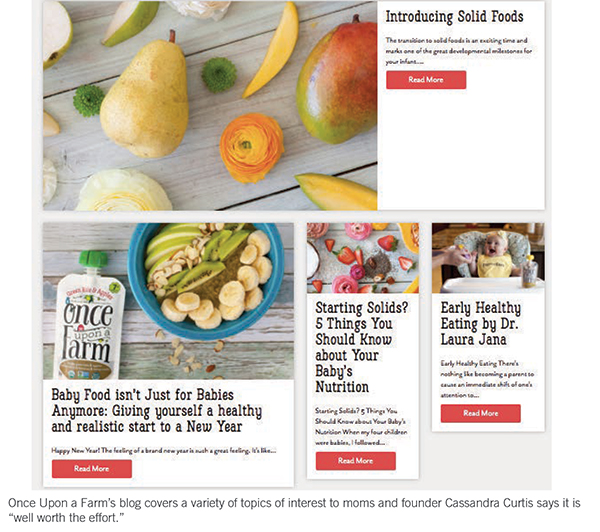 3. Help moms get the weekly shopping done – collaborate with retail partners on in-store programmes to educate and entertain moms. Stew Leonard's, a family-owned retail chain, has the right idea on this, Mabe said. The stores look like mini versions of Disney World with real farm animals, a farmer's market, cooking classes and Disneyesque animatronic characters that sing and teach kids about vegetables and good fats. "What they do is attract parents with an amazing experience that makes it easier for moms to get through the store, even if they have the kids along, so it's not a nightmare. It's something to look forward to doing together," she said.
That is exactly the point, according to Meghan Bell, director of public relations for the Stew Leonard stores, who added, that "being family friendly is a founding tenet of our company." The stores focus on mostly local and farm-fresh products and the chain only carries about 2,000 products as opposed to the 50,000 or 60,000 products carried by other grocers. So the family-friendly attractions and events are a way to make shopping a great experience and build relationships with their customers, she explained.
Individual brands can partner with retailers to make shopping a family-friendly experience by sponsoring family-oriented events, doing kid-friendly demos, or anything that involves tasting and touching experiences that make shopping fun. Companies also can involve their retail partners in their customer shop-along and share the information they learn. "Depending on the size of the retailer, they may not have current customer research, so this is helpful, and retailers love that a supplier went out of the way to add value," Mabe said.
4. Be a presence in trusted mom resources – brands should seek editorial coverage with media outlets that moms, read, watch or listen to. While this is marketing 101, it is important to remember that there are now many sources to reach your target consumers, and it's important to have a proactive programme for getting coverage that really targets this specific mom audience, Mabe explained. "It's okay to be excited about a hit in a mainstream magazine, it can't hurt, but if the audience is not your exact audience it may not be as great as getting mentioned in a blog with a more focused following." Look for magazines and blogs that moms really read. A Cup of Jo (www.cupofjo.com) is one of many blogs that have mom-specific content. But in working with these types of media, Mabe suggests getting clear on what their audience is trained to do. Ask them if they have a particular mom audience and what you can expect to see from a sponsored or earned post. Most of these blogs have proactively trained their audience to do certain things, such as use a coupon or demo a product.
Developing good social media plans also takes deep insight into customers, noted OBE Organic's Wray. That is why she invested in personal research like the shop-along. "We learnt early on that we shouldn't assume that a mum in Dubai wants the same information about our beef as a mum in New York City," she said. "We need to tailor our social media plans to ensure our posts are localized to specific markets and the shop-along research helped us achieve this."
5. Build a direct relationship to moms – organize and host mom meetups. Like the shop-along, this is another great way to get direct information from your core target customers. A mom meetup can take on very different roles, Mabe noted. You can identify influential moms, not necessarily bloggers, but regular consumers who are good about sharing your messages on social media. Keep the group small, between five and 10 customers. It is a great way to get specific information about your products, what they like, what they don't and when their loyalty kicks in. You can also give them a first glance at something, maybe a new product or packaging. "It makes them feel special to see something first, and they are more inclined to share this with their network," Mabe said. "Establishing a mom meetup group is a good way to take a quick temperature check to find out how they shop, use products, or test a new idea."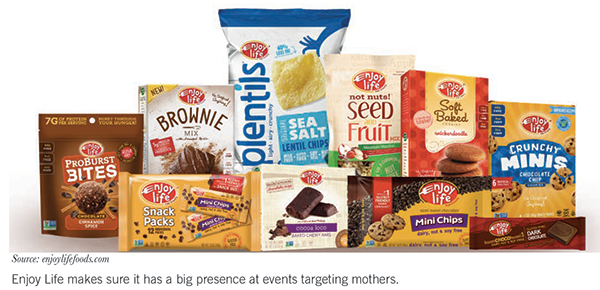 6. Utilize mom experts – work with well-known mom experts (nutritionists, dieticians, authors and bloggers) to create content and advocate for your brand. Many companies have done this well, according to Mabe, but Stonyfield Farms is worth calling out. It offers regular posts from both internal and outside bloggers, including featured blogger Sally Kuzemchak, who is a registered dietician, educator and mom of two boys, as well as a noted author. "They use strong influencers who are quoted regularly in media that moms read," she said. Other Stonyfield experts include Tania Altmann, MD, who has blogged about early infant nutrition and eating habits, and Joanna Murnan, who is a wife, mom, cupcake connoisseur, and fitness fanatic, who blogs about her journey for a greener, healthier, more well-rounded life.
7. Leverage the influencers – develop an influencer programme to leverage the connections of social media influencers, bloggers, academics, nutritionists and other experts, who can impact your audience. This is similar to mom meetups but not necessarily a physical gathering of influencers, Mabe explained. Brands can develop a network of influencers of up to around 100 moms, who will share their ideas and thoughts from your experts and bloggers as well as give feedback about your branding or marketing. "These influencer groups can be a great echo chamber or testing ground for new products. They should be the most passionate advocates for your brand you can find," she noted, adding that communication with the group can be via email, surveys, or even physical mail to give them a first glance at new things you are doing or to share posts from your other experts discussing useful topics around your brand or product category.
8. Be present at expos and events for your key mom audience – participate in industry and consumer events about moms or targeting moms. In the case of moms, there are all sorts of consumer shows and events about health and wellness, eating trends, such as gluten free, and expos regarding a healthy and green lifestyle for families. If your product caters to these audiences, it is a good idea to have a strong presence at as many of these events as you can. Enjoy Life Foods, a Chicago-based maker of allergy-friendly and gluten-free foods, has a big presence at many mom-targeted events, Mabe said. To inform customers about these events, the company has a tab on its website that shows a calendar of events it will attend in the US and Canada throughout the year. The company also encourages event planners to contact them if they have an event that may be appropriate.
9. Be an industry presence – implement a thought leadership program to tout your company's success in connecting with moms. Even on the trade side, it pays to have a strong presence at events discussing the topic of marketing to moms, Mabe said. Speaking at events like "Marketing to Moms" and other industry trade shows is a good way to position your company or brand as a thought leader in this area. It never hurts to share a few strategies about how you connect with moms and encourage other companies to do so as well, she said. In addition to attending industry events, Mabe suggests taking those calls from trade media and even establishing a CEO blog sharing ideas with other companies.
10. Advertising is still important – sponsor content with select media partners who are reaching your consumer audiences. If you have the budget, paid sponsorships of advertorial and even sampling programs in regional and national publications that reach moms is a good way to solidify your awareness among this audience. Mabe also notes the value of sites focusing on content for health-conscious new moms, millennials and women. "If one of my clients had an advertising budget to reach new moms, I would likely recommend healthy lifestyle sites like Mind Body Green and Well + Good. These sites have the right audience and do a fantastic job of disseminating their content across social media. When I conduct shop-along research with moms, they often tell me they learned about a new product, new diet, or new book from seeing an article from one of these sites that show up in their newsfeed on Facebook or a photo or video on their Instagram feed."
11. Regular moms count too – create a panel of moms to solicit regular feedback and ideas.
Amid all the influencer groups, bloggers and experts, it's important to also remember just regular moms, Mabe added. "People get very tied to the importance of influencers and social media, but just regular customers can also offer productive, helpful and useful feedback. Having these people on a regular go-to panel can provide some refreshing insights."