The former manager for a cheese-gift packer nurtured her idea for cow candy for about a decade before launching her startup in the heart of cheese country, in Wisconsin, in 2013. Galvanised by the struggle to find a healthier alternative to candy for her kids, Danyel O'Connor turned her passion for cheese, and the ideas she'd been nurturing for so long, into innovative boldly fruit-flavoured cheese snacks for kids.
"It hadn't been thought of before," O'Connor, a self-made food-marketing consultant, told Kids Nutrition Report about her product idea. "As a parent, it can be difficult to find healthy, easy-to-serve snacks that compete with candy. This struggle led to the creation of Cow Candy" which, she added, not only pleases kids' palates but also helps establish healthy snacking habits.
After some missteps along the way, such as clunky packaging, Cow Candy now has fielded new packaging featuring popular kids' characters from Hasbro. It is nearing $5 million (€4.5 million) in annual revenues by retailing in more than 200 stores in metro New York City with a goal of being in 500 stores around the country by this fall, 2,000 stores by the end of next year, and 5,000 stores soon thereafter.
Cow Candy comes in an eight-count package of 0.75oz Monterey Jack cheese sticks that are one of five flavours:
• fruit punch
• orange
• strawberry
• grape
• honey
Each stick is 80 calories, provides 4g of protein and 15% of the recommended daily value of calcium, and has 1g to 2g of sugar per serving. They retail for a suggested $3.99 to $4.99 (€3.56 to €4.46) a package, a price point that O'Connor said "falls between [that for] Sargento regular cheese sticks and organic cheese sticks".
O'Connor's journey to this food-product white space began when, out of college, she joined the company that now has become DairyFood USA, the American arm of an Austrian-owned cooperative that was based in south-central Wisconsin. She came into the operation for importing pasteurized-processed cheese foods from Europe for the US gift-pack industry, where she maintained the company's historic-license portfolio. "That's where my love for cheese turned into a passion," she recalled.
In that job, she adopted the European perspective on cheese, which is much more diverse and much more open to innovation than is typical in the US. "It's more the norm there to update or think of new products or new packaging, whereas in the US we've kind of historically gotten into a comfort zone with cheese and stayed there," she explained.
Also while there, O'Connor began thinking over the possibilities for fruit-flavored cheese after a meeting in which someone in the gift-pack division was working on a wine-flavored cheese spread. "For me, that particular product missed the mark; it tasted just a little bit like grapes," she said. "But it planted the seed deep in the back of my mind. There are other cheeses that incorporate sweet and savory flavors in an adult format; that's something I'd seen often. But there was nothing that really hit that whimsical, child-friendly mark."
FRUIT AND CHEESE A NATURAL COMBINATION
O'Connor also believed that kids would look at fruit-flavoured cheese without the subconscious suspicion that likely would be demonstrated by many adults toward such a product. "To adults, even the colour of Cow Candy can be off-putting because they have preconceived notions of what things should look and taste like," she said. "But I was inspired by children's yogurt – and adult yogurt, for that matter – where there are a number of wonderful fruit flavors incorporated into a dairy product.
"Also, strawberry milk has been around a long time. So there were reasons that were natural for me to think fruit and cheese could pair together in that way."
CHEESE CHALLENGE
But after she left DairyFood USA, O'Connor started her own boutique food-marketing firm – and continued to ponder the possibilities for what would become Cow Candy. She gave a lot of thought to the potential challenge of coming up with a cheese base for a fruit-flavored product that wouldn't fight or even challenge the fruit flavors and whose texture would be embraced by kids in the context of such a product.
"Knowing my Cheese 101, I realized that cheddars, for instance, while they're a widely accepted cheese variety they get sharp with age, and that sharpness would combat the fruit flavor," O'Connor said. "Or if you considered mozzarella, its saltiness could combat the fruit flavor. Also, children tend to like mild, creamy flavors and textures. I thought of muenster cheese, but I didn't like the texture and how it breaks down. And looking at shelf life, and mild flavors, and the lack of notes trying to compete with what we were trying to accomplish, Monterey Jack just fit."
O'Connor segued into making a reality of Cow Candy. Another challenge for her was finding suppliers of natural fruit flavor and colours that could be used in cheese. She reached out to contacts she had made in the natural-beverage industry, from her food-consulting firm, and reached out to flavor houses that they used. "From there," she recounted, "there was a lot of trial and error and a lot of leaning on people in the industry who thought my idea had legs."
She would make small test batches of flavored Monterey Jack on her kitchen stove and "played with the percentages of ingredients and colours and got it to a place where I was very happy with the product," O'Connor said.
Cow Candy then did a proof of concept at the Natural Products Expo West show in 2014. "We had a lot of really great responses," she said, from consumers walking the exhibit hall as well as retailers. "We decided the concept was strong enough that we should bring it to production and start working within the industry to build business."
Wisconsin, of course, is home (along with California) to the most cheese manufacturers in America. An additional benefit for O'Connor of searching in her home state for a contract manufacturer for Cow Candy was that "there are a lot of wonderful facilities that are family-owned" and of a perfect size to accommodate producing Cow Candy – yet still have the required regulatory certifications. Cow Candy began production in 2014.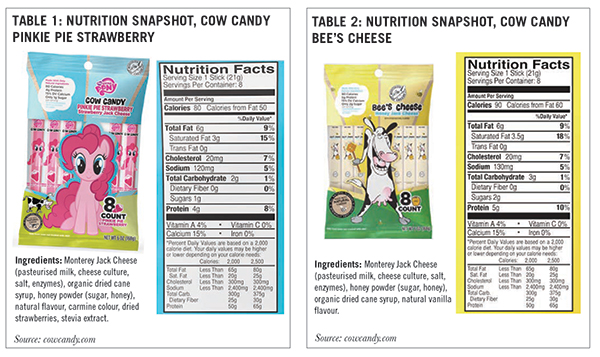 Then O'Connor faced her next learning curve: gaining distribution. Major retailers typically stage review periods for dairy-product buying only every six months, which impinged her progress. Plus, she learned about slotting fees paid to retailers by the major cheese producers.
STUMBLE
"Quite frankly, [snack cheese] is a very sought-after space, and there's a lot of pay-to-play, which we just weren't in the position to do," O'Connor said. "So what we really had to do was find the cowboys of the retail industry – people who were innovative and willing to take risks, and take a chance on innovation that isn't produced by one of the top three dairy-snack cheese companies."
Even so, Cow Candy stumbled. O'Connor found a buyer at Safeway Southwest, a major chain in the western US, who "really got the concept" and brought the brand into stores. But Cow Candy's packaging was problematic: A small corrugated box akin to those in which animal crackers are packaged, it took up too much room and hung awkwardly on the pegs in the snack-cheese refrigerator, inhibiting deep stocks and providing awkward merchandising. The retailer ended its interest.
"We hadn't been prepared to be good partners" to the retailer, O'Connor conceded. "We'd put the cart before the horse. So we pulled back and put on our big-boy pants and looked at what we should be doing better as partners to retailer – and for what we should be doing better for packaging." Cow Candy changed its packaging to a more conventional format for cheese sticks.
Maybe more important, O'Connor caught a break when a rep from Hasbro licensing approached her at a food show as the toymaker was looking for better-for-you products that could bear the brands and names of its character properties. She decided that the two companies' interests aligned and that a deal with Hasbro for character-based packaging could help Cow Candy in at least two ways.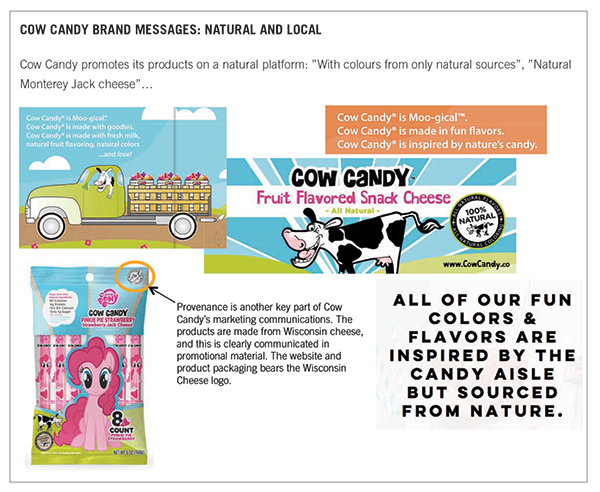 First, "There was a learning curve for our product, as we discovered," she said. "People weren't familiar with it. So if we could lend some familiarity to it through a common cartoon character that people have seen and trust, then that barrier to entry for a first-time purchase is going to be a little bit more achievable." Second, she said, as the mother of two boys, she knows how appealing the Hasbro character of Optimus Prime, from the Trnasformers movies, is to little boys.
So in January, Cow Candy came out with Optimus Prime Fruit Punch and Pinky Pie My Little Pony Strawberry flavors. Retailers responded, with Stop N Shop signing up the 200 New York stores and expected to consider expanding Cow Candy to the rest of its 2,000 stores on the East coast. The brand also is launching in Shop Rite stores this summer.
Even before Cow Candy gets significant retail traction, O'Connor already is diversifying again: The brand's latest flavor is Bees Cheese, honey-flavored Monterey Jack cheese. "That's our adult crossover – the toe dipper," she explained. "If you're a little afraid of strawberry or orange or fruit punch cheese, you can try this."