Kids are snacking more than ever these days. So providing snack foods that are low in sugar and sodium and packed with nutrition is high on the radar for at least a third of parents, according to data from Mintel. Convenience is even more important with nearly 80% looking for ready-to-eat products. Silvia Gianni and Katie Jesionowski are two moms who know this intimately with five young children between them. They took their passion for making healthy, nutrient dense foods for their kids at home and started MySuperFoods, a company whose mission is to make nutrient-filled foods that are nutritious and practical for busy on-the-go families. And in typical "mom-preneur" fashion, the company is a family affair, with a strong ethical mission topping its priorities.
The partners have intentionally kept their growth manageable and refused to compromise on nutrition. But no one can quibble with the results. The five-year-old company reports doubling its growth every year and now boasts distribution in approximately 2,000 retail outlets, centered on the East and West Coasts, with more stores coming online this year in the Midwest and Texas.
As parents continue to search for options, MySuperFoods also just expanded its portfolio with a new line of mini pop chips, MySuperPops, a whole grain, organic, nut- and gluten-free pop snack, adding to its existing products, MySuperSnack Granola Bites and MySuperCookies. The new products are 100% wholegrain, made with chia, quinoa, and flax, come in three kid-friendly flavours – White Cheddar, Kettle and Honey BBQ – and the quarter-size chip is ideal for little hands and small appetites. "Kids today are reaching for a snack three or four times a day, so it's important to ensure those snacks are made with nourishing superfood ingredients," said co-founder Silvia Gianni.
The company prides itself on offering products that are insightful to families' needs beyond good nutrition, including product format and packaging. When they first began developing products, Gianni and Jesionowski thought a lot about how their kids were eating snacks. "We also heard from other parents about how kids take a small bite or two of a bar and then drop it in your bag or leave it in the car seat," co-founder Katie Jesionowki told KNR. "We wanted to alleviate that problem for parents by minimizing the waste and frustration of going through a box of bars in a day or two. So we created our products with re-sealable pouches and bite-sized portions, so they can save what's left for later. We still hear feedback that people like that."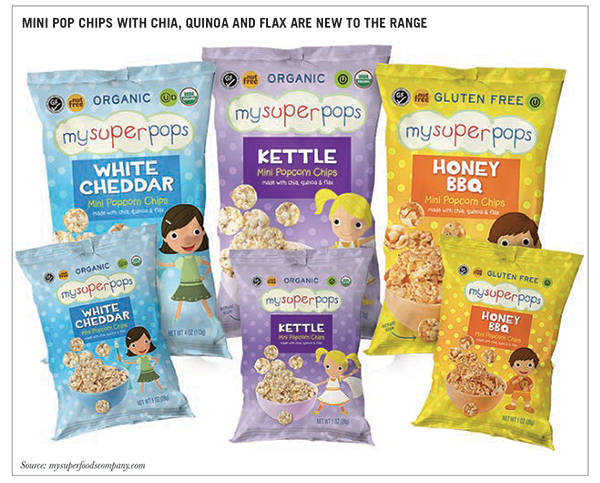 If only developing the products had been that easy. The pair met at a group for mothers expecting twins in 2009, and they bonded over the fact that they were both making their own baby food. Neither Gianni nor Jesionowski had any experience in the food business—Silvia had left a career in finance and Katie was a former advertising professional. Their first idea was to make a ready-to-eat soup, but they quickly found the concept faced numerous challenges. Putting that idea aside, they focused on making a clean, nutrient dense, soft-baked granola bar. "Katie went to the Whole Foods in Tribeca [in New York City] and bought every flour and superfood ingredient they had and began making bars'" Gianni recalled. "She kept dropping off samples to me and other friends until we thought we had something doable."
Both partners also networked with everyone they could. "We all know something about food, but there is not a lot of information about how to source ingredients, where to find food scientists, and how to connect with suppliers, and it takes a lot of time," recalled Gianni. "We started in the summer of 2011, and we thought we could launch in six months, but it actually took us a year-and-a-half to get the first product ready for a trade show and present it to buyers."
SIMPLE AND CLEAN
An initial challenge was finding a food scientist who could develop the granola bites with a clean profile. One product developer told the team they could not do the product without adding the preservative glycerine. "Even though there are clean versions of it, it is not how we wanted to go," explained Gianni. "We wanted our products to be as simple and clean as possible. We were convinced we could do it."
A serendipitous meeting through friends led them to food scientist Derek Spors, of product developers Spork and Ladle, who agreed to do it their way, although he cautioned that it would be more complicated. He was right. It took 23 rounds of back and forth before they got an acceptable prototype.
The first products, My SuperSnack Granola Bites, were launched in September 2012 featuring wholegrain oats, amaranth, real fruit, omega-3 rich flax seed and critical vitamins and minerals. They replaced the traditional granola bar packaging with a portable bpa-free resealable pouch that holds four bite-sized pieces. Available in Apple Raisin, Blueberry Banana Acai and Chocolate Chip, the product has a suggested retail price of $2.49 (€2.34).
In developing their second line of products, the MySuperCookies, they knew they would be competing with products that were sweeter and have a more familiar taste for many kids, but Jesionowski and Gianni again stuck to the plan. "We wanted to use whole wheat flour for the cookie, and it made it taste much grainier than the average cookie," Gianni explained.
PRICE CHALLENGE
Using superfood ingredients was also a challenge because ingredients like chia, coconut oils, baobab, and flax are very expensive, she added. "It was difficult to use these products and keep the price at what a consumer would pay." The cookies are organic, nut-free, whole grain and packed with quinoa, chia, baobab and acerola. Family size boxes (6.25oz/177g) are available in three flavours, Honey Heroes, Blueberry Vanilla Heroes and Chocolate Heroes, with a suggested retail price of $4.49 (€4.23).
As for many other startups, gaining initial retail distribution was a big challenge. To gain insights, the partners met with other food industry entrepreneurs. One of the most valuable suggestions they got was to grow slowly in their home market. Fortunately, Jesionowski said, with New York City as home, they had a big opportunity. "Our first effort was with the retailer in my building. We sat down with the buyer, and he took [the granola bites] right away." The next stop was the Whole Foods in Tribeca, which also took the product after a few meetings. Many meetings, however, were not as easy, Jesionowski, added, noting "we had a huge learning curve".
The pair also discovered there were other benefits of learning the business in their own backyard. "We started out doing retailer demos ourselves so we could hear feedback first hand," Gianni added. From that input, the team decided to convert the products to gluten free. "We learned that this was much easier to do as a small operation," she said. "Once you have a national rollout, changes are much more costly. So learning on a smaller scale saved us in the long run."
They also got value from a misstep. "We got into one retailer too early," Gianni noted. "They were used to dealing with larger companies, and their marketing programmes were prohibitively expensive for us." It was a painful lesson, she recalled but "it helped us figure out that we were not always ready just because they wanted us".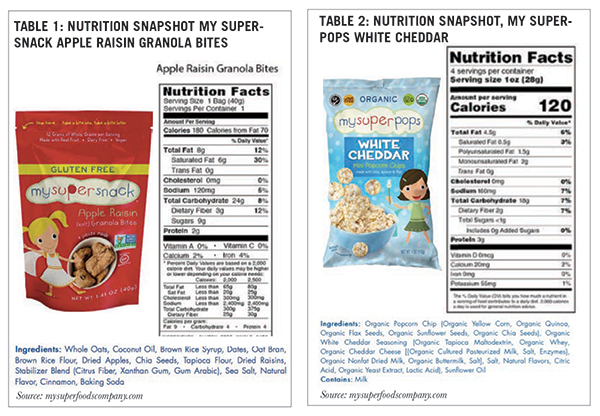 Both partners maintain that learning to trust their gut instincts was a good thing, and they are both content with the growth and progress they've made. Despite their success, the team remains small with just four full-time employees. Gianni and Jesionowski also still own a majority of the company and have grown with no real outside money—just some small investment from family.
Holding their cards close also allowed these two moms to make their company about a broader mission. From the start, Gianni said, "we wanted to have a strong social mission, and, in doing some research, we found that there is so much food insecurity, we wanted to be a part of that change." The company made an early commitment to fight child hunger by partnering with food banks in states where they do business, starting with the Food Bank of New York City in 2014.
MySuperFoods currently has partnerships with four food banks and plans to expand to seven this year. So far, they have also donated 115,000 meals. "We wanted to do more than just donate one percent of profits somewhere," Gianni explained. "We are now also donating our time, snacks and helping charities in our community." The effort helps MySuperFood become part of the community, she added, noting that "we don't do this as an afterthought. It is one of the main reasons we do what we do".
As for the future, the partners have a goal to grow their portfolio of snack foods, according to Jesionowski. She won't say other ideas, like the soup, are off the table, but for now "we have learned from our partners in co-packing to look for strategic opportunities. Right now we are looking for opportunities where people know us and look for us."