Pot noodles have been a cheap staple of the student pantry for years, but few would describe them as health food. UK-based Mr Lee's Noodles wants to transform the market with a premium, gluten-free range that's actually healthy – and sell it through interactive vending machines and other non-traditional outlets.
---
Pot noodles are a growing market, according to Mintel data, with sales of pot noodles and pot rice reaching £178 million ($229 million/€195 million) in the UK in 2015, up from £166 million ($212 million/€180 million) a year earlier. Damien Lee's interest in the category stemmed from a cancer diagnosis several years ago, when he decided to transform his diet in an effort to aid his recovery. Now in remission, he aims to decouple the concepts of convenience food and junk food.
OPPORTUNITY FOR A BETTER NOODLE
"About 100 billion instant noodles are sold each year," the founder and CEO of UK-based Mr Lee's Noodles told New Nutrition Business. "The cheap noodle market was growing and huge, and then I looked at how junky the segment was and I thought, 'That's a lot of people eating a lot of junk. There is an opportunity right here to have a noodle, but have a good noodle that's not bad for you'."
Lee describes himself as a serial entrepreneur, so despite having no experience in the food and beverage sector, he decided to launch his own product based primarily on his own ideas about what would make a healthy instant noodle, with 'no nasties'. That means the noodle pots are:
• free-from artificial ingredients
• certified low in sugar
• gluten-free
• low in salt and saturated fat
However, it takes more than the absence of ingredients to make a healthy product, and the company has focused on using freeze-dried – rather than dehydrated – meat, seafood and vegetables, combined with rice noodle nests and natural flavourings like chilli, ginger, galangal, lime leaves and lemongrass. Freeze drying helps retain nutrients and flavour, while also providing extended shelf life.
Mr Lee's Noodles come in six varieties with a focus on authentic Asian flavours:
• Hong Kong Street Beef
• Zen Garden Vegetables
• Tai Chi Chicken
• Coconut Chicken Laksa
• Warrior Fighting Shrimp
• Dragon Fire Vegetables
Lee says the company's approach appeals to his target consumers, who include everyone from students to parents to office workers looking for quick, tasty and healthy convenience foods. Those aged 18-25 are big instant noodle consumers, but 70% of its online sales come from those aged 35+, with women aged 35-44 making up the largest group.
"First it is the ingredients and bold flavours but people these days are becoming so much more aware of their eating and health," he said. "People are becoming more interested in ingredients and have more and more disposable income. There will always be a pot noodle crowd, but that's not for us. It was what I believed in and what I felt was wrong with this segment of the market. I know you are what you eat. People have to start eating better and we have to give people more healthy feeding options on the go."
Instead of trying to compete directly with the plethora of instant noodle brands on the market, Lee is exploring every outlet other than retail – and aims to further differentiate with a higher than average price tag.
Other gourmet pot noodles include those from Itsu and Kabuto, both of which sell for £2.00 ($2.57/€2.19). Mr Lee's Noodles sell for £2.99 ($3.84/€3.27), which he describes as a "reassuring" price point that reflects the product's quality.
"We didn't go to the supermarkets first," said Lee. "We would get lost. I could let those 20 other brands jockey it out on the shelf. We will eventually go to the supermarkets but it will be on our terms."
Instead, the company has struck deals to provide the noodles on train lines and airlines in the UK, Europe, North America and Australasia, as well as in hotels in Scandinavia, Iceland and Germany. In addition, it has used social media and health bloggers to create an online presence, and is working with athletes and sports teams to promote the brand.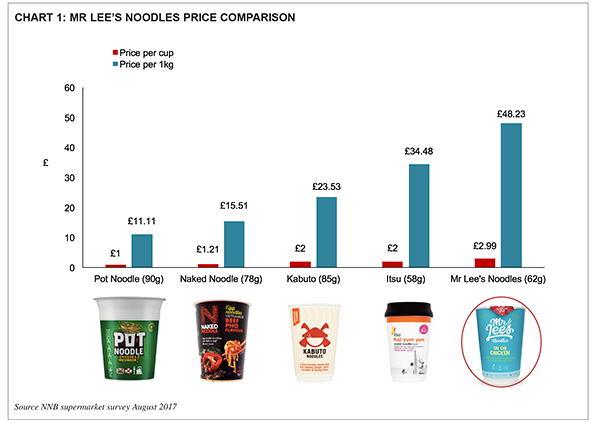 But one of the most unusual aspects of the company's distribution strategy is its development of 'smart' vending machines to target a growing group of health-conscious consumers looking for better-for-you convenience foods, especially after regular business hours, when few healthy vending options are available.
In partnership with contract catering firm Compass UK, it plans to put them in high-footfall areas, such as on university campuses, military bases, hospitals, large offices and government facilities. The 'smart' aspect refers to the machines' large touchscreens, which have eye-tracking technology to determine how consumers use them, gender, age range and how many people pass by at particular times of the day. They can then play targeted advertisements during the 45-second vending time, and send information about consumer engagement and user demographics directly to the real estate holder and advertisers.
For the consumer, noodles sold through the machines can be personalised, with additions like tamari soy sauce, seaweed, sesame oil or chilli oil, accompanied by nutritional information about the specific ingredient.
"Vending machines haven't changed much in 50 years," Lee said. "They are lifeless. In today's day and age, vending must be more interactive and more modern. Our vending machines are smart. We know right to the second what's going on."
The technology benefits the brand and the location alike: in order to collect information about how many people come into a building, and at what time, the machines need to be placed in a prominent position.
"The key for us is to get our noodle kiosks front and centre because we do better out of it, but it's also better for the real estate holder, providing them with all this great information," said Lee.
The company has just completed its pilot programme with Compass Group and is now entering the manufacturing stage, which will allow it to introduce the vending machines across the UK.
Despite it being a very early point in the company's development, Mr Lee's Noodles has convinced investors. The products only launched in mid-2016, and in June this year, it raised more than double the £375,000 it was seeking on crowdfunding site Seedrs, walking away with more than £780,000 ($1 million/€853,000) which will help scale up production. Lee is concerned that without rapid expansion larger companies could copy his business model before he manages to secure the brand's market position.
"We need investment to push ahead," he said. "We are a small brand today and the big guys are watching us. At some point they will start to look at our model and we haven't got the muscle and reach of those big guys right now, so we need to act now to get market share."
Even as he seeks a strong foothold among instant noodle brands, Lee also has an eye on the company's next steps. With that in mind, it is rebranding to become Mr Lee's Pure Foods Company, and Lee intends to branch out from the noodle sector with other healthy products in the near future.
"I don't sleep much at night. I'm always looking for disruptive ways of doing business," he said. "It's about finding ways to disrupt a sleepy market or a market where people are sitting on their laurels."