Faced with a declining category and struggling sales for a flagship brand, one of Australia's biggest breakfast cereal makers has turned to one of the riskiest strategies in a bid to breathe new life into its business.
Weet-Bix, marketed by Australian food company Sanitarium, was once the cereal that all Australian families ate for breakfast. First launched back in 1928, the brand has long been described as a "national icon" in Australia and New Zealand.
Weet-Bix are 18g dry biscuits of wholegrain wheat, made of 97% wheat plus sugar, salt, barley malt extract and fortified with vitamins and iron. A serving is typically two biscuits, consumed in a bowl with milk.
In September, Australian supermarkets saw the debut of a new variant, Weet-Bix Cholesterol Lowering. On pack claims are:
Reduces cholesterol by up to 9%
Clinically proven
The pack also carries the endorsement of the Australian Heart Foundation.
The active ingredient is plant sterol esters. The product delivers 2g of plant sterols per serve (a serve is two 18g biscuits), which lower LDL cholesterol. It is said to be the first breakfast cereal of this kind to be launched in Australia.
Plant sterols have been around since the mid-1990s (pioneered by Finnish company Raisio) and are among the most-researched ingredients, with upwards of 100 published clinical studies confirming their ability to lower LDL cholesterol (the "bad" cholesterol that is associated with risk of heart attack). In Europe they are one of the few ingredients to have secured a health claim from the European Food Safety Authority (EFSA), a body that is well-known for rejecting most health claim petitions.
The launch is against the backdrop of an Australian breakfast cereal category in long-term decline. For more and more consumers, traditional cereals don't fit with their thinking about digestive wellness and gluten, or managing their carbohydrate intake.
Convenience is also driving the category down. Australians have been turning to products grabbed on the way to work, smoothies, Belvita breakfast biscuits or liquid breakfast – a category pioneered and led by Sanitarium.
Weet-Bix has a further problem: for people from countries not familiar with a dry wheat biscuit, it is very much an acquired taste. Australia today is composed of more and more people for whom this type of breakfast is a bit alien – 28% of all Australians were born outside Australia.
Weet-Bix sales have suffered in recent years, falling by 4%-5% to around A$105 million ($85 million/€70 million) in the year to September 2017, according to informed sources. This decline would have been sharper had Sanitarium not launched several new variants of Weet-Bix to meet the needs of different consumer groups. These variants include:
Kids
Organic
Gluten-free (based on sorghum)
Blends (blends of different grains)
Taken with the variants above, the launch of Weet-Bix Cholesterol-Lowering might signal that Sanitarium's management accepts the new reality – that the future lies in a portfolio of finely-targeted niche propositions whose sales will collectively one day exceed those of the declining traditional Weet-Bix brand.
However, the past 20 years has shown that launching cholesterol-lowering products is fraught with challenges, which is why almost every company dropped heart health in general and cholesterol-lowering in particular from their strategies.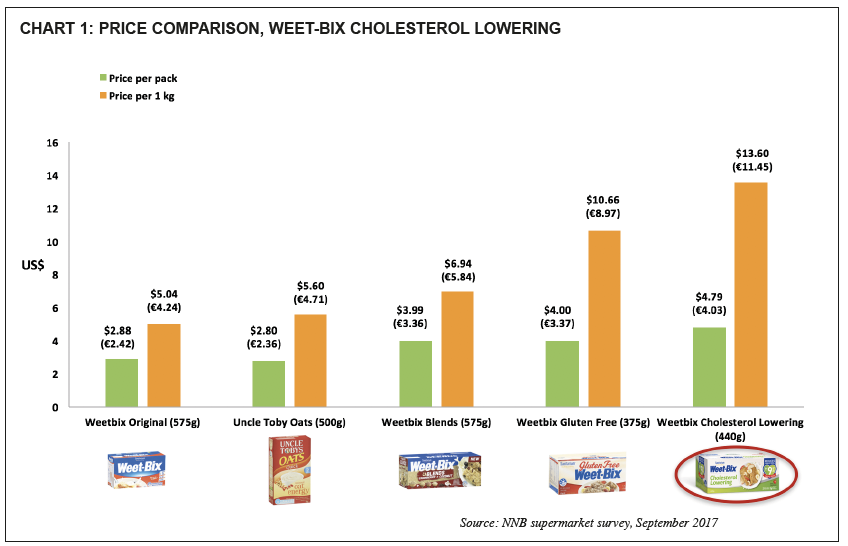 Here are some of those challenges:
People don't think they need it: If people don't know they need to lower their cholesterol, how do they know they should buy your premium-priced, science-based product? The problem is spelled out in Sanitarium's own communications, one of which says:
"In a nationwide poll of 1,000 Australians…two- thirds (64%) of respondents revealed they do not have their cholesterol tested once every two years, as commonly advised by health practitioners. Almost half (43%) of these respondents are aged 45 and above, who fall within the high-risk group."
For 20 years consumers have shown no desire to be more pro-active in getting their cholesterol tested. This cuts down the size of the target market not to people with elevated cholesterol, but to those who know they have elevated cholesterol.
Weet-Bix communications mention that: "Cholesterol testing also failed to get on the radar of nearly nine in 10 (86%) aged 18-44." This is no surprise. Cholesterol is not a concern for them. Every company that has targeted cholesterol-lowering products at younger people (such as cholesterol-lowering smoothies and bars) has failed.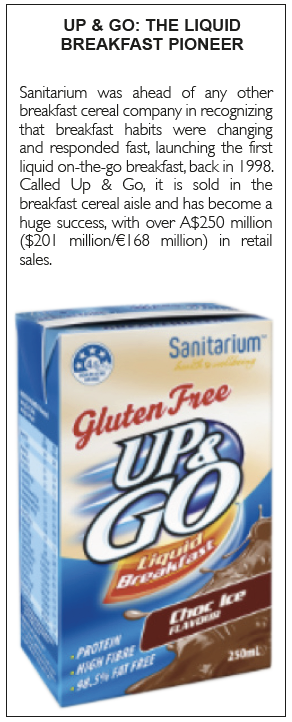 Competition from drugs: If you have elevated cholesterol your doctor will put you on drugs – specifically statins, which is what they are trained to do. Statins will achieve a much more significant cholesterol reduction than food. For a doctor, this is a low-risk strategy with a high chance of success. Some food companies have tried to market their products as an accompaniment to drug treatments. But even Unilever's heavy investment in positioning its cholesterol-lowering Flora/Becel spread towards health professionals achieved very modest results.
People already have many alternatives: When people want to protect their heart health or manage their cholesterol they change their diet and lifestyle and turn to the many naturally heart-healthy foods – such as oats, oily fish, dark chocolate, blueberries and others – all of which are more appealing than a product with an added ingredient that almost no one has heard of. A heart health benefit is no longer a point of difference. And even if people are interested in a sterol-based product, there are already some on the Australian market they can choose, from low-fat milk to table spreads, all of which sell as niche products.
Significantly, even Australia's leading oat and oatmeal breakfast brand, Uncle Toby's, does not carry any reference to cholesterol-lowering on the front of the pack. Instead it is positioned on a "natural energy" message, which has much wider appeal and is easier for people to understand.
Changing views about cholesterol: Older consumers will follow advice on the importance of lowering LDL cholesterol. But more people are doing online research and discovering that current beliefs about cholesterol are being questioned by reputable researchers around the world as well as many doctors.
Many consumers will have noticed recent studies that have resulted in headlines such as "High cholesterol does not cause heart disease" (the Telegraph, 2016) and "Heart disease is not caused by cholesterol so taking statins is 'waste of time', research finds" (the Independent, 2016).
They may also have read that, in a re-analysis of old data from the Minnesota Coronary Experiment (a study that originally helped to kick off the low-fat, high carb approach to diet) those who had the greater reduction in serum cholesterol had a higher rate of death.
Debate will undoubtedly continue over this controversial topic, meaning that consumers' growing doubts over the connection between cholesterol and heart disease are likely to persist.
COMMENT
Cholesterol-lowering is of interest to the small number of people who have elevated cholesterol. A company that markets a sterol-based cholesterol-lowering product told NNB that their core consumers were aged 55-64 and the second-biggest group 64-74.
If the aim of Sanitarium's senior management is to create a niche, low-volume, higher-value product to improve the brand's margins then it's not a bad move. But any ambitions bigger than that are likely to be disappointed.