Chobani taps dairy protein's quality advantage
---
Protein quality is the untapped competitive advantage that dairy has over plant-based alternatives. Dairy marketers have held back from making the most of this advantage, but Chobani, which has consistently shown itself to be innovative and pioneering, is one of a handful of companies setting out to educate consumers about dairy protein's superior quality. Consumers currently think only about protein quantity and few have awareness of protein quality – but that could be about to change.
Chobani is targeting consumers who are into sports and fitness, a vital group who are early adopters of new nutrition concepts and from whom those ideas spread to the broader consumer market. Today's mass-market consumer's interest in protein, it should never be forgotten, started 20 years ago with fitness enthusiasts.
Step forward 34-year-old fitness instructor and dancer Cody Rigsby, whose well-known face is appearing on a limited edition shake in Chobani's lactose-free, high protein range known as Complete – "complete" because, according to the company, it is "packed with protein and offers all nine essential amino acids, which are the building blocks of proteins for the body".
Rigby is known for his fitness routines on popular fitness app Peloton – he has been called the "King of Quarantine" for his popularity as a stationary bike and strength training instructors during the pandemic lockdown. And with over 1 million followers on Instagram, TikTok and Facebook combined, he's a huge influencer.
Chobani Complete Shake Cody Rigsby Edition contains 25 grams of high-quality protein "with all the essential amino acids needed for building muscle—making it a functional and delicious pre- and post-workout snack for everyday athletes and fitness professionals".
Launched in July 2020, Chobani Complete is claimed to be 'easy to digest' and offers up to 25g of complete protein (15g in 5.3oz, 17g in 6oz, 25g in 10 fl oz), 3g of fiber, 0g added sugar and no lactose. It's also a good source of fiber, "diabetes-friendly", gluten-free, lactose-free and made with only real fruit.
As we explore in 10 Key Trends in Food, Nutrition & Health 2022, https://new-nutrition.com/nnbReport/display/226, successful protein product strategies are all about creating 'permission to indulge' and delivering convenience. For sportspeople, Chobani's drink does all that and more – offering multiple benefits in order to meet a range of consumer needs: "Whether you're looking for the gut-health supporting properties of probiotics or need an option to reduce your sugar intake, there's a Chobani product for you."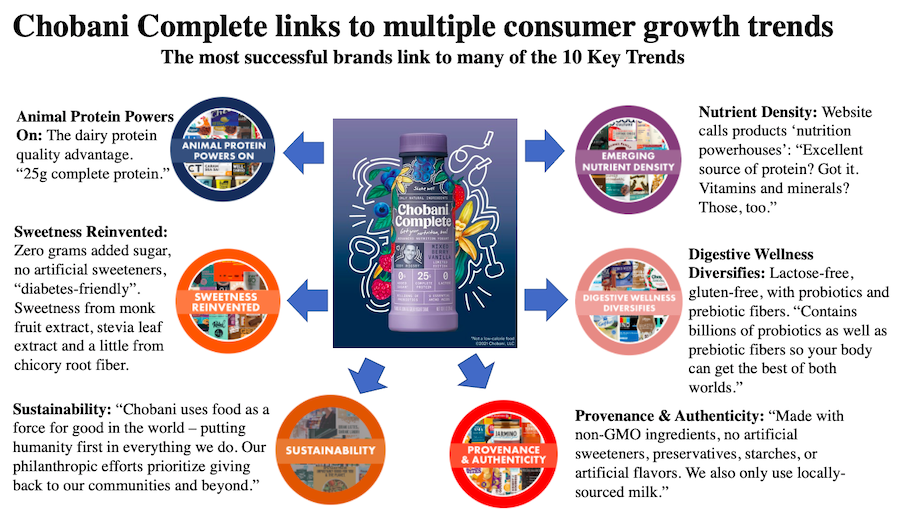 Recent blogs