Beyond a plant-based bloodbath
---
Beyond Meat, the California-based plant substitute maker which raised a billion dollars to fund its ambition to get consumers to switch away from meat, has reported falling retail sales in the key US market, a collapse in its gross margin and mounting losses.
As Chart 2 shows, Beyond's sales in US supermarkets have fallen to pre-pandemic levels. The $1 billion US meat substitute category, which grew by 10% in the year to September 2021 (IRI data), is the world's single biggest meat substitute market and the most important market for Beyond, which had achieved a 23% share, putting it in second place to Kellogg-owned Morningstar, a meat substitute brand created in 1985.
Underperforming on taste and texture and with 20-strong ingredient lists (had they forgotten that 'clean label' is a consumer need?) the brand was never aligned with consumer preferences.
Not only have Beyond Meat's sales tanked, every $1 of product it sells costs $1.25 to produce. The company's gross margin collapsed from 28% to 21% in the third quarter of the year. As Chart 1 shows, it made a loss of $92 million in the first 9 months of 2021. Beyond has never made a profit - cumulative losses on its balance sheet are $296 million. Unsurprisingly, the company's Chief Operating Officer 'stepped down' in September.
Plant proteins have a good future - but not with this strategy. As we have said before, a Silicon Valley growth model is being shredded by contact with reality. A surprisingly large number of plant-based business models have ignorance of the consumer and the food & beverage market baked into them. Beyond is only the most conspicuous example.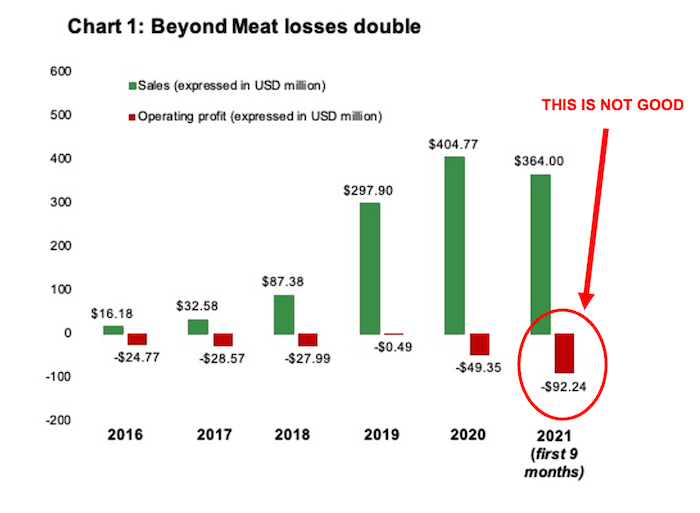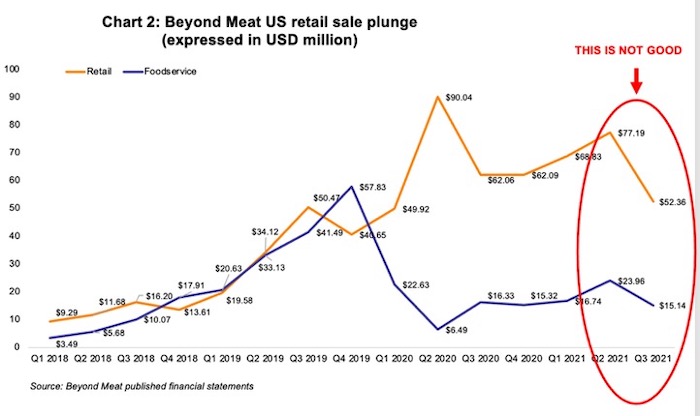 Recent blogs