Sustainability credentials allow consumers to enjoy butter
---
The latest launch in the US market from Fonterra, the New Zealand dairy group, combines the attractions of provenance, grass-fed cows, carbon zero and organic.
Fonterra's Anchor brand Organic carbonzero Certified Butter is intended to help consumers to make a more sustainable choice. The climate in New Zealand allows cows to graze pasture 365 days a year and Fonterra say it is this "pasture-rich diet" that gives its butter its particular taste and golden colour. The butter is certified USDA organic, meaning it's non-GMO and free from synthetic fertilizers and pesticides, antibiotics and growth hormones such as rBGH/rBST.
The packaging features imagery of New Zealand pastures as well as a QR code that takes consumers to Provenance.org, a third-party company which provides supply chain transparency of everyday products, to show consumers how Anchor's certifications make for a better environment. Anchor's net zero carbon status is audited and verified by Toit? Envirocare, an independent certifier.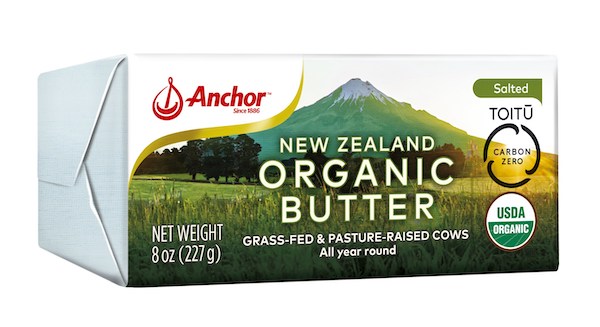 The past ten years have seen the dairy industry relentlessly criticised by activists and media over sustainability (and specifically greenhouse gas emissions). Some plant-based dairy substitute brands have loudly and favourably compared themselves to dairy brands in a bid to win over consumers concerned about climate change and the environment.
But while consumers want environmental sustainability, most also want dairy to remain a part of their diet - a fact testified by the steady growth in demand for dairy products in recent years. Sales of butter, in particular, have staged a come-back, reaching levels not seen since the early 1970s as consumers lose their fear of fat and increasingly chose the simple natural dairy product over multi-ingredient, more-processed spreads and margarines.
Because dairy appeals to people in so many ways – taste, texture, familiarity, nutrition, versatility, food culture - most consumers want to hear positive stories about animal welfare and farms caring for the environment. They are ready to embrace sustainability messages like Anchor's.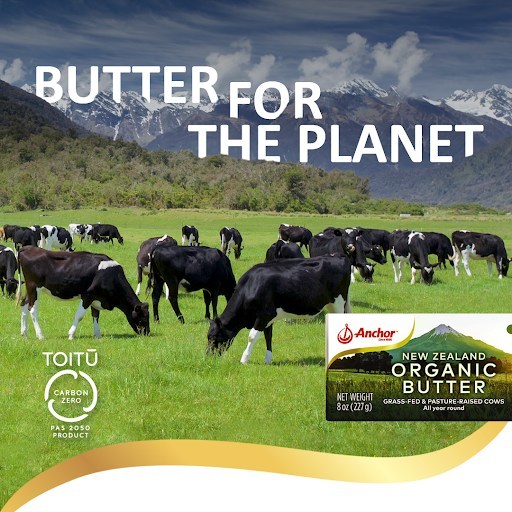 Recent blogs