Climate labels aim to guide consumers away from animal protein
---
Swedish supermarket chain Hemköp has introduced a 'climate friendly' signage scheme in its 200 stores. It is the first initiative of its kind in Sweden and Hemköp hopes that it will contribute to a 50% reduction of the carbon footprint from the wider food industry by the end of 2030.
The scheme arose from a study by Swedish government research institute RISE, which indicated that 30% of Swedish households' carbon footprint is caused by food. At the same time, a consumer survey by Kantar Sifo, on behalf of Hemköp, found that 70% of consumers wanted clearer in-store guidance towards climate friendly options.
Hemköp's climate labels can be found on products in six categories: Bread, root vegetables, eggs, cheese, legumes and frozen food. Interestingly, there is no labelling in the meat or dairy aisles – or in the aisles for their plant-based counterparts.
25 product-specific messages have been developed and focus on food waste, CO2 emissions and the importance of eating seasonally. QR codes are available for curious consumers to scan and find out more.
We went to a Hemköp store in Malmö to see what the scheme looks like in real life.
In the root vegetables section, potatoes are described as a "climate friendly source of carbohydrates". Other root vegetables are said to be "tasty, cheap and climate friendly – easy to like!".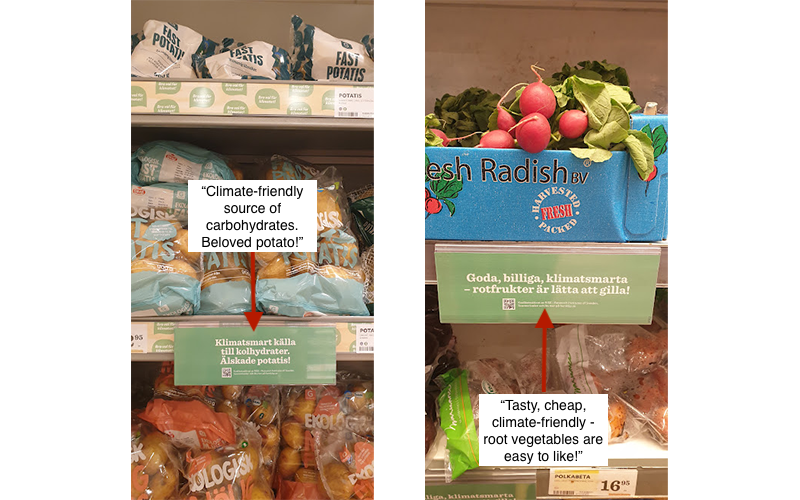 In to the bread aisle, we found the message "Bread – a climate friendly shortcut to protein and carbs".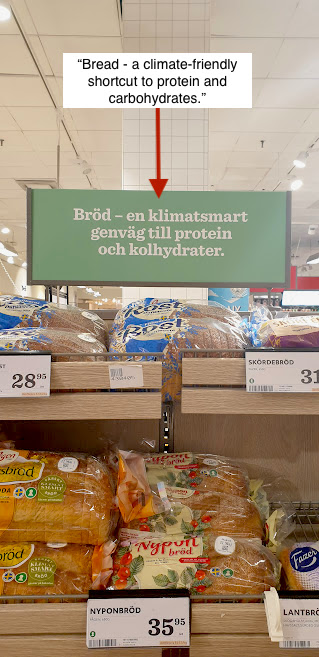 In the legumes aisle, claims get more radical and legumes are described as "the protein of the future". Scan the QR code and it tells you that legumes have a significantly smaller carbon footprint than animal protein as they can provide nutrition to humans directly instead of being fed to animals: "If you choose vegetarian mince instead of meat, you can feed 10 times as many people with the same carbon footprint".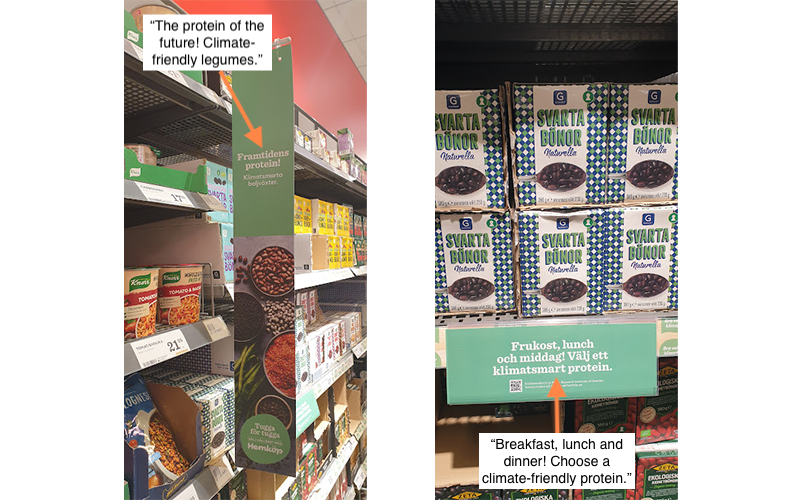 On the animal protein side, eggs are described as a climate-friendly protein. The reasoning is that hens don't need a lot of resources to produce a kilo of eggs, thereby making the CO2 emissions from egg production small.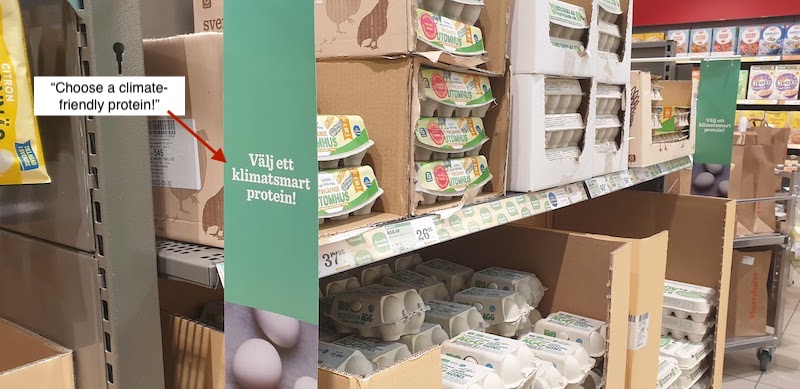 Recent blogs