Oatly's amazing result: sales up 12%, losses up 87%
---
Oatly's financial performance continues to astonish. Its CEO believes the company is on a path to profitability. Its share price actually went up on the financial 'good news' reported on March 15th. But in what universe is losing a third of a billion dollars good news? Currently Oatly loses money in every region of the world it sells in. It believes it can come back from these losses to profitability by 2024. That would be quite an achievement!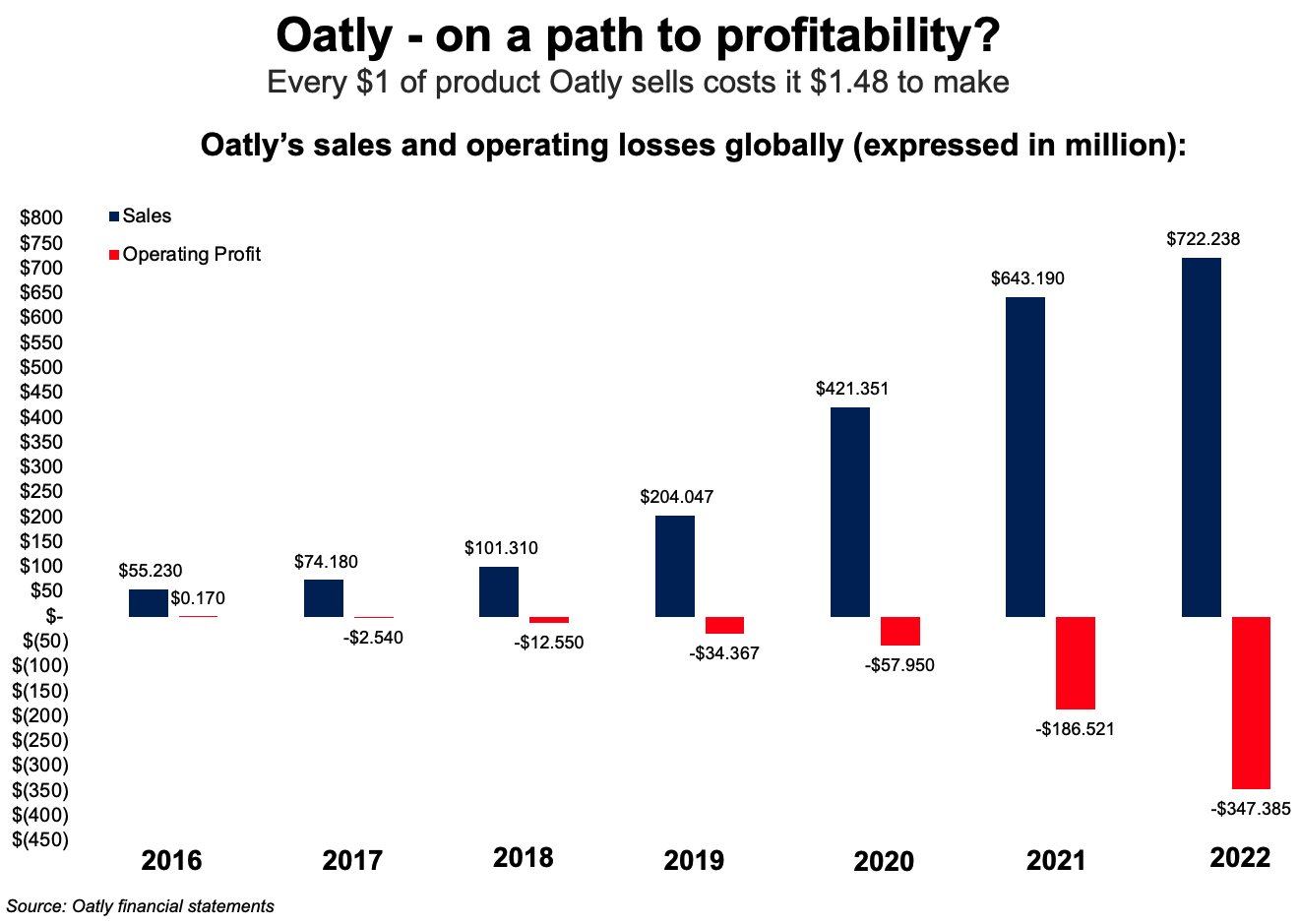 In terms of its performance by region:
- Oatly has been a success in northern Europe - particularly Germany and the UK - and Europe overall is the most important market for Oatly, generating 47.8% of total sales.
- However, Europe has slumped from a profit of $11.5 million in 2021 to a loss of $15.5 million in 2022. While there's no doubt that rising costs have hit most food and beverage businesses in Europe in 2022, most manage to keep near break-even - especially ones generating $345 million in sales!
- Sales growth in Europe was just 2.7%, suggesting that Oatly has not been getting price rises, despite the inflationary environment, or it has, but volume growth has stalled.
- Sales in the Americas were up an impressive 24.5%. However, that's not so impressive when you consider that the US oat milk market also grew by 25% in 2022, meaning that Oatly is not gaining market share. It is the No. 2 brand in the US, with a 20% market share compared to Planet Oat's 35%.
- On the other hand, losses in the US doubled in 2022, to a total loss of $107. 7 million. So in simple terms, sales up 25%, losses up 100%, market share up 0%.
- Asia is going better now that China (Oatly's main Asian market) has ended lockdowns. Sales were up 20%.
- Losses in Asia were $82.4 million - a 300% increase over 2021.
Oatly has enough cash on its balance sheet to continue operating for another year. The urgency to get to profit is clear. But the path to profitability is a long and dark one. And whether, 12 months from now, any investors will be willing to bail out a management that has produced such a unique set of results is another question again.
Recent blogs