Is 'responsibly sourced' the future of animal protein?
---
Protein has been a steady growth trend for almost 10 years and looks set to stay that way – powered by its association with maintaining a healthy weight and supporting fitness.
Although there's no shortage of people willing to claim that plant protein is going to take over from animal source, the facts (as measured by actual sales in supermarkets) don't support this.
And animal protein is fighting back – communicating (for example) its superior quality (as measured by amino-acid profile) compared to plant source, and also environmental arguments that refute many of the criticisms made against it.
Focusing on environmental credentials is going to become more important – and the phrase 'responsibly sourced' may one day become an everyday message in the supermarket. The picture shows this emergent phrase appearing for the first time on a supermarket own-label product – a tuna salad in UK supermarket chain Marks & Spencer (M&S).
For meat and dairy, an equivalent descriptor is 'grass-fed' – but this in time might evolve to say more about 'responsibly sourced'.
M&S has long been at the leading edge of health trends. Its successful "High Protein" range connects to the protein trend and includes tens of products. And like this salad, they are all low-carb, reflecting the reality that people increasing their protein intake are usually also reducing their carbohydrate intake – see http://bit.ly/2WEFQSv.
Not only that, this salad delivers 14.2g of fat per 100g. A growing number of health-active consumers are losing their fear of fat, and eating more fat goes hand-in-hand with more protein and fewer carbohydrates.
This retailer's efforts remind us how success comes from connecting to multiple consumer growth trends – protein, carbohydrate, fat and soon, possibly, 'responsibly sourced'.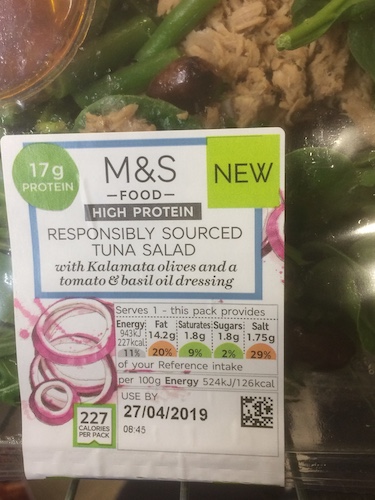 Recent blogs