Cheese shows potential to deliver a new appeal for flexitarians
---
There's a growing interest in the potential of cheese as a meat substitute. It's a source of high-quality protein and it's already used on the dinner plate by some meat reducers and vegetarians. All over Europe, dairies are rolling out new products. Now, the Alouette brand, part of French cheese giant Savencia, is taking the trend to the US with its grillable Brie cheese, intended as replacement for beef or vegetable burgers.
Said to be a "first-of-its-kind innovation", the cheese comes in 4.5oz (128 g) wheels said to "fit perfectly on standard burger buns". The product can be enjoyed either on its own, or it can be sliced and used as topping for other types of burgers.
"Americans love Brie, especially when it is baked or melted. We're debuting Brie for Grilling with this in mind to give home chefs, hosts and cheese lovers a unique way to enjoy the creamy, melted delicacy of Brie this summer without ever having to turn the oven on or leave their backyard," says Kriston Ohm, Alouette's vice president of marketing.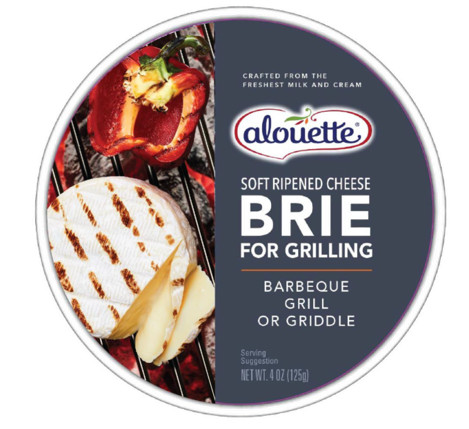 The idea of replacing meat in meals with cheese started almost two decades ago, when halloumi cheese began its journey from niche to staple in many European countries. Suddenly, the Cypriot classic could be found in the form of burgers, stews, salads and skewers in the vegetarian section of restaurant menus all over the world.
The trend was particularly strong in the UK and Sweden. Approximately 40% of Cyprus' halloumi cheese exports go to the UK. In Sweden, halloumi imports grew from just 21 tonnes to 4,000 tonnes between 2010 and 2018.
Cheese beats plant-based meat substitutes for many reasons:
Taste and texture. Cheese will never have the same taste as meat – but it doesn't need to, it already has its own good taste. Plant-based substitutes have offered something new but tried to mimic the taste and texture of meat, mostly failing.
Familiarity. Cheese is a familiar ingredient to kids and adults alike, making it easier for consumers to embrace.
Protein. Cheese delivers both higher quantity and quality than many plant-based meat substitutes.
Cheese may not become a mass market meal-centre, but it can earn a frequent place, perhaps even weekly, in the meal repertoire of flexitarians. Vegans are at best 3%-5% of the population in most countries, but meat reducers and vegetarians, most of whom already eat cheese, are a much better target, at around 24% of consumers.
Recent blogs