Plant-based or real meat? At Burger King Sweden, the answer is in the barcode
---
Do you think you could tell a plant-based burger from a meat one? If so, you should probably take a trip to Sweden and visit a Burger King restaurant.
In a campaign launched in July the restaurant chain dares consumers to order a '50/50 Menu', whereby the you are randomly given a Whopper made with either the standard beef burger or with the plant-based version. Consumers are then encouraged to download an app where they are asked to guess which type of burger they are eating. A scan of the barcode on the box reveals the answer. Data from the app will be collected and used in ads later on this year – regardless of whether most people guessed correctly or incorrectly, Burger King has promised.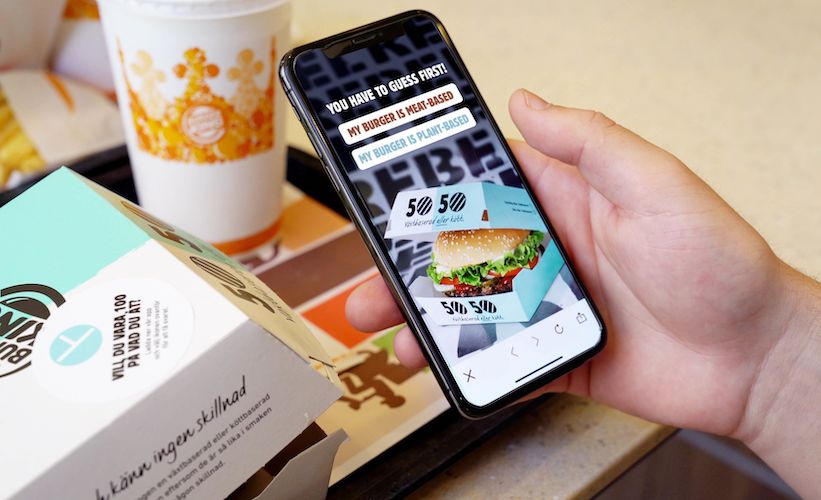 The campaign follows the chain's launch of two plant-based burgers in late May – one intended to resemble chicken, and one beef. The burgers – promoted with the slogan "0% meat, 100% flavour" – are known as Rebel burgers and are based on soy protein. They are currently only available in the chain's 135 Swedish restaurants. However the company has announced plans to bring them to the rest of its European markets.
Burger King is so confident that the burgers "taste so similar to real meat that you won't notice any difference" that they decided to prove this by launching the 50/50 campaign. Naturally, at NNB we had to try this for ourselves, and were surprised to find that two out of the four people in our party incorrectly guessed that they were eating a beef burger. In fact it was the soy protein-based version. As Burger King's television ad for the campaign crudely puts it: "It is such a mindf*ck".
Burger King is known for its slightly surreal marketing campaigns, which earned it the Grand Prix at the Cannes Lions festival earlier this year. The 50/50 campaign is another creative move from the company, and one that may win over a number of carnivores.
Recent blogs