Asia's cheese tea trend – the west's keto opportunity?
---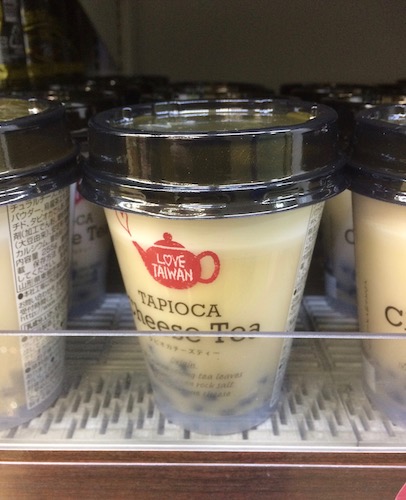 Drop into one of Japan's fabulous convenience stores and among the many novel treats you'll find cheese tea. If you haven't already come across cheese tea, it's better than it sounds!
Cheese tea is any tea drink – green or black – topped with cream cheese. The concept originated in the street stalls of Taiwan, where it was topped with cheese powder, spread to China (where they use New Zealand cream cheese) and Malaysia. And now it's making headway in Japan.
New Nutrition Business tried a matcha version on a recent trip to Tokyo. It was an intriguing sweet/savoury/creamy taste that might not appeal to everyone, but we found delicious.
In Japan, mascarpone cheese is often used. Japanese people love mascarpone cheese, which first became a hit back in 1990 when Japan first embraced tiramisu, the Italian dessert.
Who'd buy it? Everyone who likes food novelty, but the largest group in Japan seems to be young women.
One of the most prominent brands – and the one NNB tried – is Tapioca Cheese tea, an own-label product sold by the Lawson convenience store chain and launched in 2019. A single-serve chilled product, it's a mixture of oolong milk tea, Himalayan rock salt, mascarpone cheese and tapioca. Fortuner, a cheese tea specialty shop in Tokyo's fashionable Harajuku district, brings together the twin trends of tapioca (bubble) tea and cheese tea.
Unilever-owned Lipton also dipped its toe into cream cheese tea this year, launching a limited-edition product for the summer called Cream Cheese Tea Latte. Sold chilled in 500ml cartons, it is described as "a milk tea with Philadelphia cream cheese and rock salt from Lorraine". Lorraine is a region of France.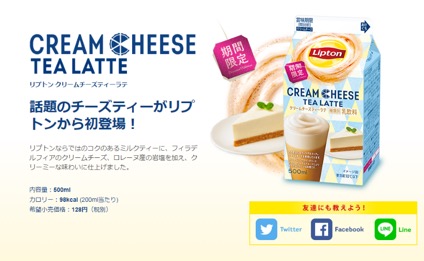 It would be easy for western companies to dismiss this as another Asian oddity that 'won't catch on over here'. But that would not be wise. For one thing, people in some western countries – notably the English-speaking ones – are losing their fear of dairy fat. And for another there's surging interest right now in ketogenic diets – and not only in the US. Italians, too, are trying them out. And cheese tea fits right in with the keto diet's requirement that you get a high percentage of 'good fat' in your daily diet. Not to mention the fact that cheese tea can be delicious, indulgent and appeal strongly to western tastes – as we found when tasting the Lawson product.
It's an opportunity for someone willing to be innovative.
Recent blogs