Jump in digestive health problems in Sweden
---
Digestive health problems are surging in Sweden, with the number of people affected increasing by almost 50% between 2013 and 2019.
The number of Swedish adults with digestive health problems jumped 10% - from 34% of the population in 2017 to 44% in 2019. Back in 2013, only 30% of people reported digestive issues.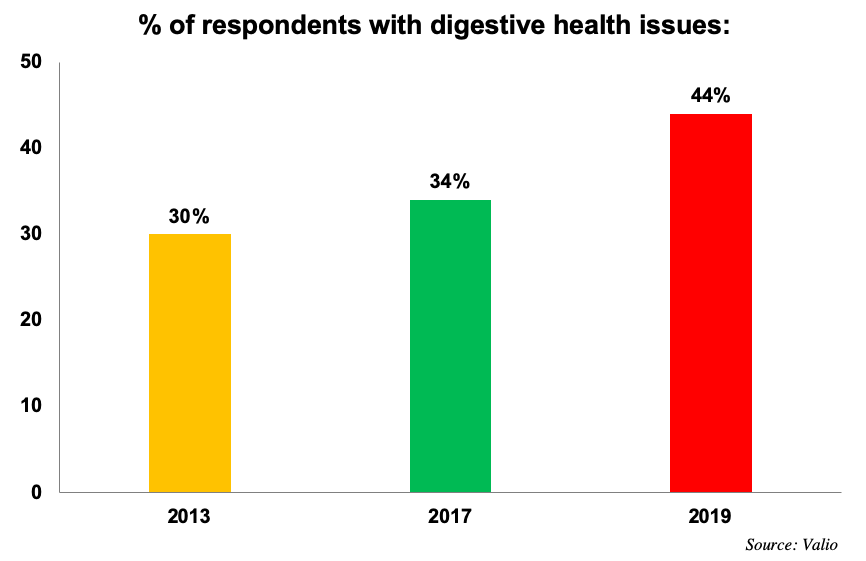 The figures are from the 2019 edition of Magrapporten (translation: 'the stomach report'), an annual survey by Scandinavian dairy company Valio which maps out the state of digestive health in Swedish consumers.
Perhaps unsurprisingly, digestive problems are the most common among women – in particular young women. Valio's survey of 2,001 Swedish consumers aged 16-79 found that as much as 60% of females aged 16-30 said that they had suffered from some sort of digestive problem in the past year.
The Valio report shows that Swedish consumers connect digestive health with eating habits, along with stress and exercise.
When asked what they thought their digestive problems depended on, respondents quoted stress as the main reason (55%) followed by poor eating habits (28%). And when asked what actions they had taken to alleviate the symptoms, "changing my eating habits" and "avoiding certain foods" were in the top three of the most common responses. 14% of respondents claimed to avoid lactose and 15% to avoid coffee – all in the interest of digestive wellness.
Valio's report underscores how digestive health remains a key concern for consumers, and this is a trend that all food and beverage companies need to pay attention to. Digestive wellness has long been one of the top trends in NNB's 10 Key Trends report, and you will be able to read about the most recent developments in the 10 Key Trends 2020 report that comes out in November.
Recent blogs