Ads urging Swedish consumers to choose chicken to fight climate change gets blowback
---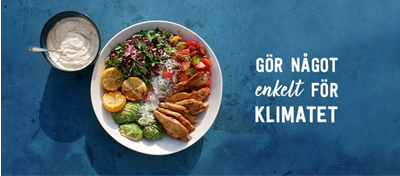 Kronfågel – Sweden's leading chicken producer – is pitching its products on a sustainability theme in the company's biggest-ever marketing campaign. With television ads, billboards and social media campaigns, Kronfågel is encouraging consumers to "do something simple for the climate" by choosing chicken over red meat.
The television ad starts by focusing on what is often said to be one the worst climate offenders – air travel. For the first 15 seconds, the ad features nothing but airplanes and the sound of airplane engines. It then goes on to show a group of airplanes flying over a residential area where a family is sitting down in the garden to have a roast chicken dinner. As the airplanes pass a voiceover says: "If everyone seeing this ad chooses chicken over red meat just one time, this will compensate for 51 long-haul flights with a jumbo jet. Do something simple for the climate."
Other versions of the ad makes claims like "Chicken has a tenth of the impact on the climate compared to red meat" and "If you pick chicken over red meat just one time, you will compensate for 30 km of driving" and the consumer is encouraged to make this easy switch "when the climate to-do list feels overwhelming".
Kronfågel has created a separate section on the website where they carefully lay out the calculations they have made to draw the statistical conclusions.
"We know that many consumers are unsure of how to shop and eat with the smallest possible impact on the climate," said Kronfågel's marketing manager Susanne Zabrodsky.
"As food industry actors, we need to help the consumer navigate this. We want to contribute with simple solutions that can benefit both humans and the planet. It is time for us to tell people that through choosing chicken over red meat, they contribute to significantly reducing the greenhouse gas emissions"
Unsurprisingly, Kronfågel's campaign has triggered criticism. Within the first week, the Swedish Consumer Agency received nearly 100 complaints from aggravated Swedes.
Among many things, the company is of greenwashing, of playing off farmers against each other, of comparing two completely different things and of not presenting the whole truth.
Criticism has also come from dairy farmers and meat farmers – including some of Kronfågel's own suppliers. According to the suppliers, they tried to stop the company from launching the campaign but were ignored.
If evoking emotion was the main aim of Kronfågel's campaign, it has been a great success.
Recent blogs