Technology delivers provenance re-assurance
---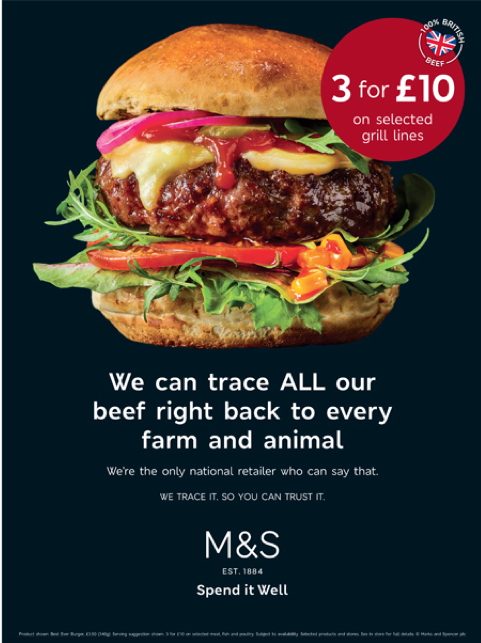 UK premium retailer Marks & Spencer has slashed customer complaints by two-thirds and seen an increase in its sales of beef since it invested in a bold transparency move.
Back in 2015 Marks & Spencer (usually referred to by its shoppers as 'M&S') set out to identify the exact origin of every piece of beef it sells – including products that use beef as an ingredient - and show its journey to the supermarket shelf.
The results of this pioneering strategy include a dramatic drop in customer complaints and higher sales of beef – showing how much consumers want food from "somewhere" rather than "anywhere".
The retailer partnered with Dublin, Ireland-based tech company IdentiGEN, whose DNA TraceBack technology is based on DNA sampling from the animals on all the farms that supply M&S. This makes it possible to trace the beef back to every farm and every animal.
Thousands of tests are carried out every year on products taken at random from M&S stores and warehouses to check that beef is moving through the supply chain from farm to store correctly and that M&S standards are being followed.
Next the company told its customers, using the slogan "We trace it, so you can trust it" in a campaign launched in 2018 which highlights M&S's status as "the only national retailer in the UK that can trace every piece of beef it sells". It communicates that's true whether it's in a prepared meal, a sandwich or a prime cut – and that it can show that every piece of M&S beef is British.
As more people value provenance, initiatives like this will become more common as companies strive to build trust.
Recent blogs