Fat off, added sugar on in US nutrition label overhaul
---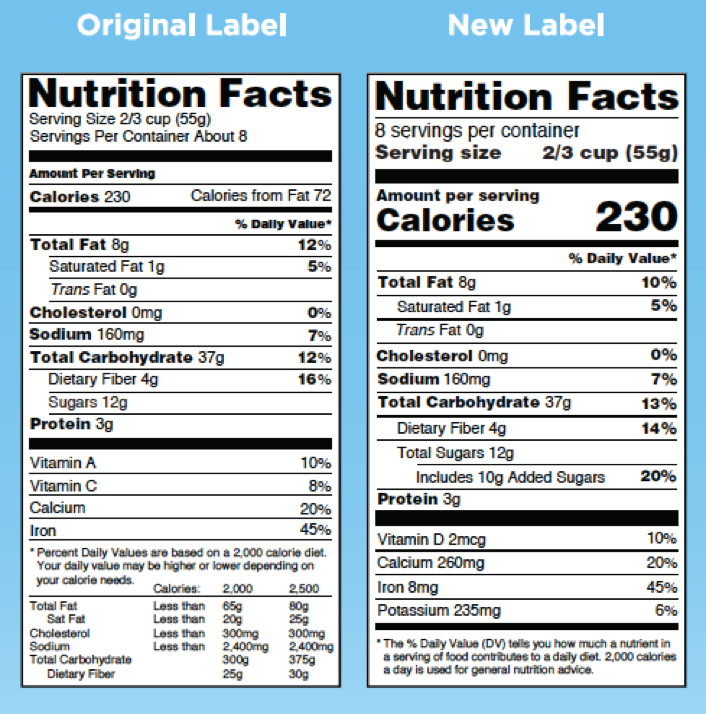 Consumers in the US are now faced with a new Nutrition Facts label, required from January 1st (for larger food companies at least – smaller companies have another year to comply). So what changes will they see? Multiple things have changed – and we think these are the most interesting:
1. "Calories from fat" is no longer displayed. This is to reflect the latest science, which shows that the type of fat is more important than the amount - and that consumers are a lot less worried about fat today than they were 10 years ago. That's something NNB has been observing since 2015 and it's great to see some tangible industry changes at last.
2. It is now mandatory to display how much added sugar the product contains. This change is one of many signs of the demonisation of sugar that we have seen in the past few years, and aims to ensure that consumers have no more than 10% of their daily calories from added sugar.
3. Serving sizes have been updated to reflect what people actually eat - rather than what they should be eating. This means that a serving of ice cream is now 2/3 cup (156ml) rather than the previous 1/2 cup (118ml). It also means that products that are between one and two servings, such as a 591ml soda bottle, are required to be labeled as one serving because people typically consume them in one sitting. It's refreshing to see a government body such as the FDA moving towards information based on actual facts rather than flawed assumptions, which is too often the case.
You can read more about the changes to the nutrition label here: https://www.fda.gov/food/food-labeling-nutrition/changes-nutrition-facts-label
Recent blogs