High-fat diets strike a chord with Eastern Europeans
---
As anyone in the food and beverage business knows, the populations of the US, Sweden and Australia are known for being experimental, health-oriented, and receptive to new – sometimes even a bit "out there" – diet and food trends. On the other side of the coin are more conservative markets like France, Italy, or Croatia, where people are stalwart supporters of their traditional foods.
But now the very restrictive and on-trend "keto" diet is making inroads even in small Eastern European countries like Serbia, Croatia and Slovenia. Google searches for "keto" in Croatia surpass France and Italy – both larger and wealthier markets.
In fact, searches for keto in Croatia and Serbia have been booming on social media in the past three years as the chart shows.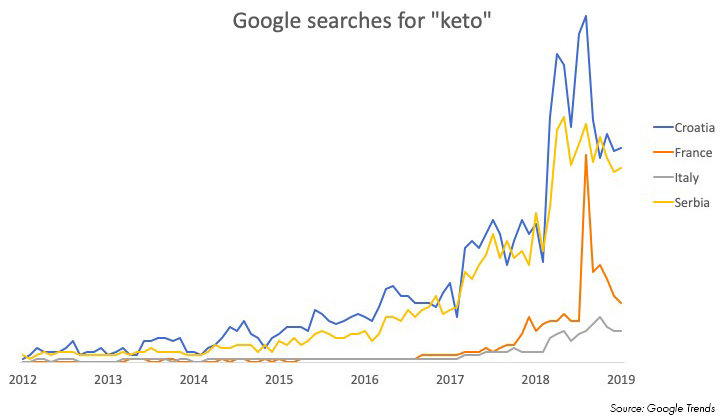 "Keto" has also entered regional mainstream media, with articles published in the biggest dailies in Croatia and Serbia, including 24 Sata and Informer.

Keto in Informer, Serbia's biggest daily newspaper, "The diet people are talking about: Get slim immediately, with keto!"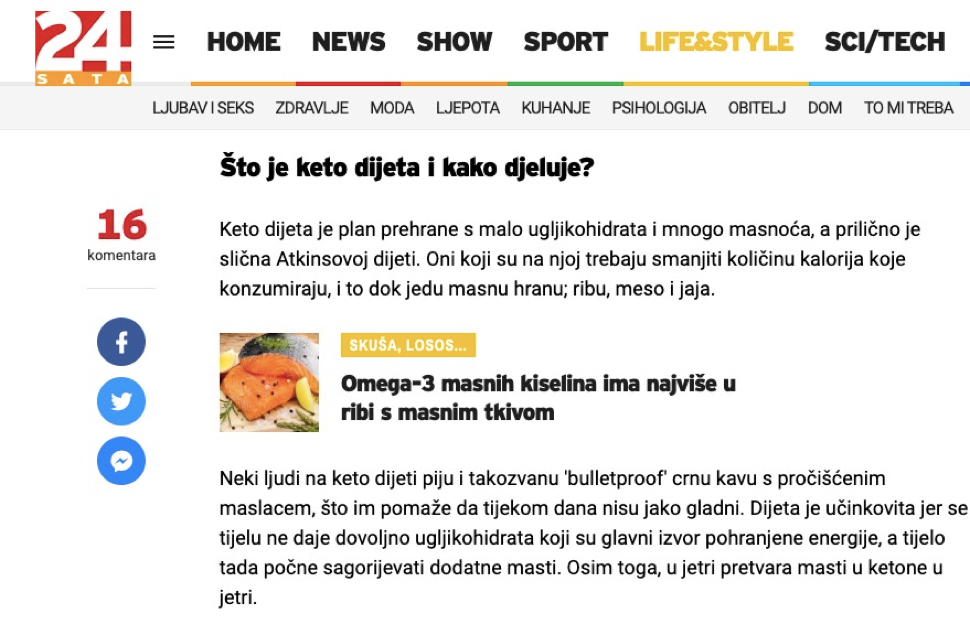 Keto in 24 sata, Croatia's daily newspaper with the highest circulation, "What's the keto diet and how does it work?"
The burgeoning discussion was in part initiated by outlier dieticians who embraced new nutrition science and spoke out about the benefits of high-fat diets. In Croatia, for example, one of the main platforms for recipe-sharing and support for people on LCHF diets is a group founded by dietician Anita Šupe, who has written extensively on the benefits of high-fat diets.
Another keto conversation-hub for health-oriented early adopters is "Keto/LCHF Ishrana – zdravo mrsavljenje" (Keto/LCHF eating – healthy weight loss), started by Borjana Vorkapic, a Serbian blogger and influencer.
There are a few Facebook groups about paleo, LCHF or keto dieting, where members actively discuss recipes, share weight-loss success stories, ask for opinions on blood analysis results, and offer tips on keto products and where to order them.
The popularity of keto highlights another growing trend – personalisation. On social media, people are sharing stories about disagreements with their physician's diagnosis, and sticking to a high-fat diet in spite of medical advice. These trends signal a further personalisation in keeping with the trends of North American and Western European countries, where people commonly craft their own diets.
Recent blogs