---
In an attempt to capitalise on the wellness trend, major UK retailer Sainsbury's announced that it is introducing what they call 'wellness hubs' in stores this winter. The supermarket chain will double its range of wellness-oriented products, while bringing in new specialist brands. The aim is to help health-conscious customers fuel their healthy lifestyle quickly and easily, without having to run between different aisles or retailers.
The concept was trialled in five stores across England in November, and an additional two stores were added at the start of January. If successful, the retailer will bring the concept to more stores during 2019.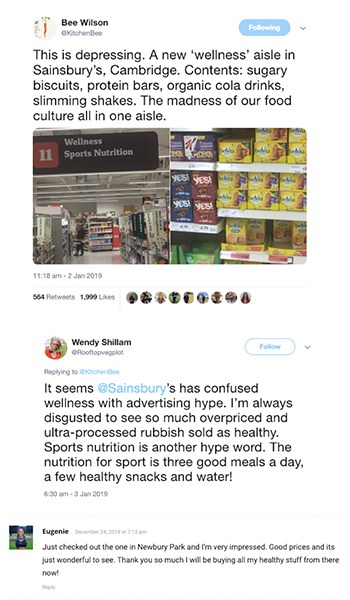 So what will a so-called wellness hub entail? According to Sainsbury's the aisle will include "specialist products" such as activated nuts, hemp water, superfood powders, bone broths and drinking vinegar. And the supermarket will become the only one in the UK to offer exclusive wellness brands such as No 1 Kombucha. Sainsbury's hopes to offer a wellness portfolio so extensive that customers won't have to shop anywhere else – not even in specialist health food stores such as Planet Organic or Holland & Barrett.
Consumer response to the initiative has been lukewarm. Shoppers in Cambridge were surprised to find sugary brands like Belvita in the wellness aisle, but Sainsbury's has responded by saying that these products were never intended to be seen as part of the wellness hubs. The retailer did however agree that additional signs clarifying this were necessary.
Others have complained that the idea is "gimmicky", that it makes wellness appear too detached from "regular" food and that it promotes quick fixes while failing to tackle the underlying problem of a bad diet. Some of the brands included in the wellness aisles have been criticised for being over-processed and too specialist – intended for the hardcore athlete and not the average consumer.
But consumer reactions are not all negative, and some welcome the idea as a positive addition to their local supermarket.
Recent blogs