Low-carb catching on with doctors?
---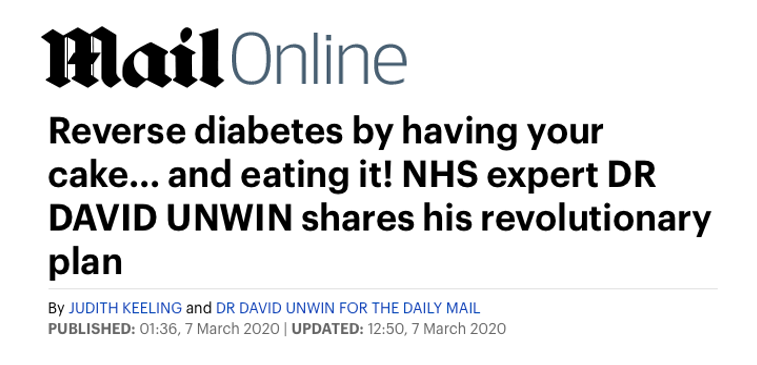 Up to 3,000 physicians (GPs) in the UK are recommending low carb to patients who are obese or suffering from type 2 diabetes, according to a recent article in the UK's most popular newspaper the Daily Mail.
In the five-part series exploring the low-carb approach, pioneering low-carb GP Dr David Unwin called it "a grassroots revolution that's changing our approach to treating type 2". Dr Unwin was named the ninth most influential general practitioner in the UK by GP magazine Pulse and is a Clinical Expert in Diabetes at the UK Royal College of General Practitioners. In his own practice, nearly half of his patients have put their type 2 diabetes into remission and come off medication, and the practice spends about £50,000 less on drugs than the average.
As well as collaborating on a low-carb cookbook, Dr Unwin has designed an online low-carb course for the UK's Royal College of General Practitioners – a course that has been completed by around 1,100 GPs. The college has around 50,000 members.
Current UK health service advice for type 2 diabetics is to "eat a wide range of foods – including fruit, vegetables and some starchy foods like pasta".
But as the obesity problem grows, some medical professionals are asking whether the low-carb approach might have some merit. A Facebook forum set up for nurses in the UK to share information on low-carb success stories has 873 members about a year after it was created – with more than 120 joining recently, in the space of just one month.
With the obesity and diabetes epidemic showing no sign of abating, it's little wonder that medical professionals – and consumers – are questioning the effectiveness of traditional low-fat, higher-carb dietary advice.
•Adult obesity in England has risen from 15% in 1993 to 29%, and 20% among children aged 10-11.
•The figures are even more startling in the US, where about half of all adults will be obese and a quarter severely obese by 2030, according to a Harvard study in the New England Journal of Medicine.
•Diabetes (mainly Type 2) affects over 4 million people in the UK, a number that's estimated to rise to 5 million by 2025. About 6% of the UK population have diagnosed diabetes.
•And in the US, 26.9 million people —or 8.2% of the population—have diagnosed diabetes, a significant increase since 1999/2000.
•Diabetes is one of the most expensive chronic illnesses – in the UK it's estimated to cost the health service £25,000 a minute, and in the US people with diagnosed diabetes, on average, have medical expenditures around 2.3 times higher than what expenditures would be in the absence of diabetes (American Diabetes Association).
Recent blogs