Online sales boom for alkaline water brand amid lockdown
---
At a time when many companies are bracing for financial difficulty, and the pandemic and potential economic downturn are making consumers cautious with their money, the UK's leading alkaline ionised water brand is experiencing unprecedented demand.
Online sales of UK pioneer Actiph have rocketed since lockdown began. "It may be surprising because there's so much bad news about coronavirus at the moment, but we are actually going through a super-boom at the moment for alkaline water," Jamie Douglas Hamilton, Actiph founder, told New Nutrition Business. "We have actually doubled our sales during this time – and online sales are huge for us," he added.
E-commerce has played a pivotal role in buoying the business: "Our convenience front-of-store has now dropped by 50%, but the volumes of online sales have increased more than enough to cover this," he says.
Sales of Actiph in online-only retailer Ocado are up 800%, while in smaller online retailers they've increased 300%. And on Amazon UK, where the company would normally sell around four pallets of bottles a month, it's now supplying, and selling, 26 pallets of bottles in each delivery.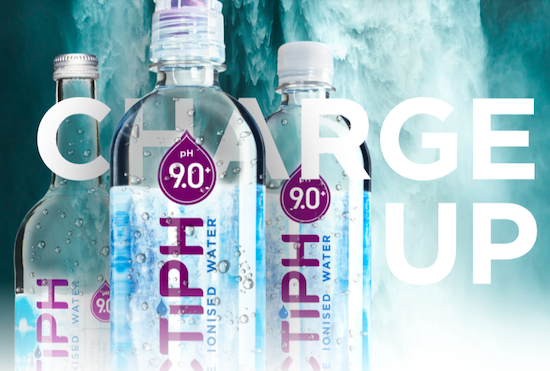 A decade ago, alkaline water was looking like becoming a super-niche product, with a technical-sounding name and technology that went beyond the understanding of most consumers. However, it was embraced by US consumers, becoming a standard item in mainstream retailers.
Actiph was the first alkaline water brand in Europe, making its debut in 2017 in UK department store Harrods. Now the UK's leading alkaline water brand with a 90% market share, it also dominates the Middle Eastern and European markets. It sells at around £2.00 (€2.30/$2.50) per 1-litre bottle in most UK supermarkets.
Before the lock down came into place, Actiph was experiencing 300% year-on-year growth, and it had doubled distribution in the past year, adding listings in Middle East supermarket retailers Spinneys and Lulu, and US retailer Central Market, in addition to selling in UK supermarkets Tesco and Sainsbury's, and in health retailer Holland & Barrett.
Consumers' search for healthier alternatives underpins the uptick of interest in alkaline water, according to Douglas-Hamilton: "Ordinary bottled water is seen as a commodity and is driven by price. But now consumers want to get more from their water and are looking for healthier options, so they prioritise alkaline ionised water over standard, commodity water." Actiph's core benefit platform is energy, and the brand also links ionised water with helping digestive problems.
The future is bright for the whole category, Douglas-Hamilton says: "Alkaline water is now the fastest growing beverage category in the world. Over the next three years it's going from sales of $1.2 billion up to $4.3 billion in sales, making this the fastest growing beverage category. So it's a very exciting place to be."
Recent blogs