General Mills regen ag pilot takes off in dairy
---
General Mills is extending the regenerative agriculture initiatives that it kicked off in cereals – with its no-till grain kernza – into dairy. A year ago, the company (which makes Yoplait, Liberté and Mountain High yoghurt products) joined the growing list of companies using regenerative agriculture to improve its impact on the world, and this year it has expanded the initiative with its first regenerative dairy pilot.
Regenerative agriculture refers to a set of farming and grazing practices designed to protect – and even improve – the land. This 'dynamic and holistic' method can bring benefits such as better soil fertility and biodiversity, more nutrient-dense foods, and reduced emissions. Long-term, it could even help to reverse climate change and build a sustainable food system. Regenerative agriculture in the context of dairy farming requires slightly different practices from crop farming, including grazing rotation, high quality grass feed, and natural manure fertiliser.
General Mills' pilot will take place on three Michigan dairy farms covering over 14 000 acres. The farms supply a nearby Yoplait factory, whose products include Yoplait Oui, the immensely successful French-style yoghurt in glass pots. Their farmers will receive customised advice on how best to implement regenerative practices – a key part of the pilot, as the healthiest and most sustainable way to run a farm depends on the individual conditions of that farm.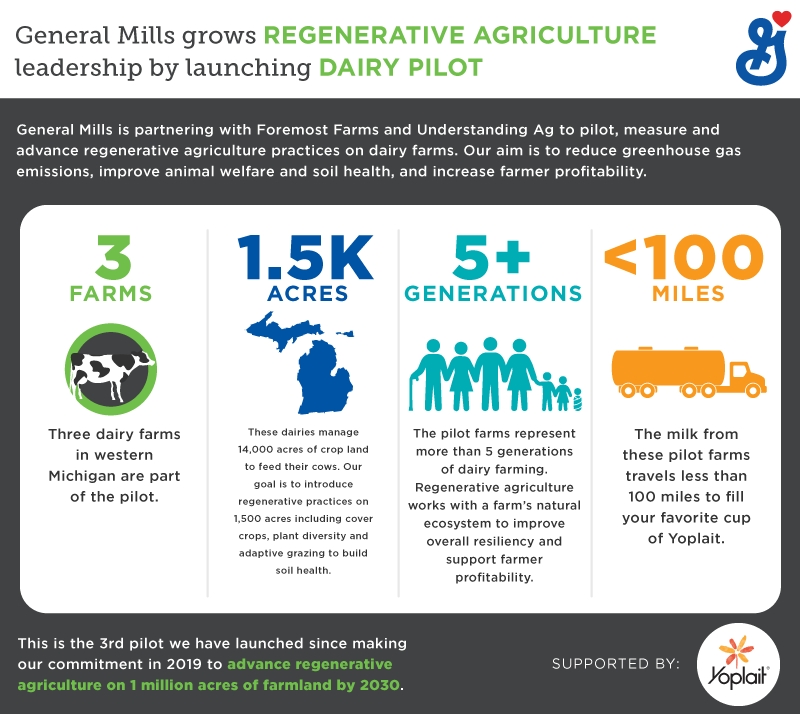 Many dairy farms already successfully employ regenerative agriculture – in Ireland, the cooperative Glanbia Ingredients runs the regenerative dairy brand Truly Grass-Fed. The company, which is advised by Bord Bia and Teagasc, is transparent and specific about the methods it uses. Its website emphasises the knowledge and expertise of its farmers and how similar their method is to the traditional Irish approach.
It would have been unimaginable 15 years ago for a food industry giant like General Mills to practice regenerative agriculture, but these days businesses need to accept the necessity of an ethical and environmental conscience. Speaking to NNB, Ethan Soloviev (chief innovation officer for HowGood, which rates products according to their regenerative impact), said: "In most industries, you can go from being degenerative and extractive and move toward having net-zero impact [on the environment]. But with agriculture, you can go way beyond."
In our 10 Key Trends report, we classed sustainability as a mega-trend on the basis that consumers increasingly expect it as a given. Why not make the most of this potential for a net positive impact?
Recent blogs