The immune-boosting "product of the pandemic"
---
The Covid-19 pandemic has put immune health back on the radar for many consumers. Something which has long been a top priority for consumers in Asia has started to surface as a leading concern for Western consumers, as we are reminded of our vulnerability and of the importance of healthy eating. As the chart below from the International Food Information Council (IFIC) shows, 40% of Americans in 2020 say they prioritise immune function as a health benefit from food – up from 35% in 2019.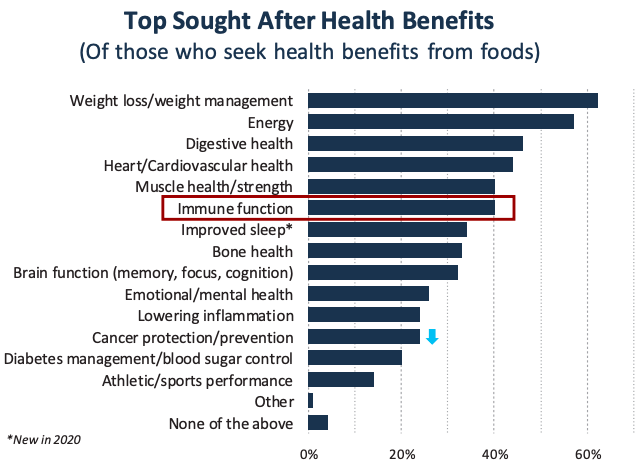 Source: IFIC
One brand that has picked up on this growing interest in immune-boosting products is Gusto, a sparkling beverage company based in the south of England. Founded by Craig Sams, the entrepreneur behind established UK brands Whole Earth and Green & Blacks, its drinks use premium, organic, Fairtrade ingredients and natural sweeteners – its Real Cola, for example, is sweetened with organic Fairtrade blue agave and organic certified erythritol plus, for the light version, "a touch of stevia".
Now, Gusto is launching what it describes as "the world's first grab and go super-strength vitamin drinks" which are said to help "bolster the immune system".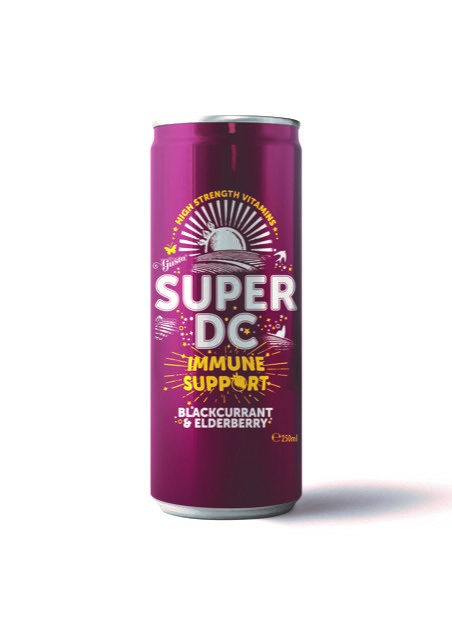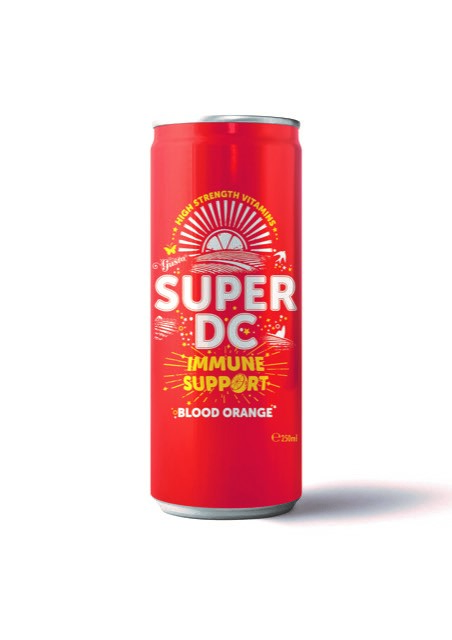 The drinks, called Super DC, contain 200% of the recommended daily intake of vitamin D and 2500% of the recommended daily intake of vitamin C (hence the "DC" in the product name) and also contain vitamins A, K, zinc and folic acid. They come in blood orange and blackcurrant & elderberry flavours and are said to contain a high percentage of real fruit juice. Enriched with botanicals such as white mulberry and acerola cherry, the drinks are also "high in anthocyanins that fight free radicals and bring a wonderfully diverse flavour".
Gusto's CEO Will Fugard says that the new range is "a product of the pandemic" but highlights that it is a "taste first" product, which is always a wise idea in our industry.
Gusto's original plan for 2020 was to launch a range of mixer cans designed for hospitality, but as the pandemic broke out the company realised that it "needed to pivot and be agile".
The Super DC range will launch on November 16th in 250ml "grab and go" cans from Amazon UK and health stores like Holland & Barrett. At £1.99 ($2.57/€2.21) per can, they are premium-priced compared to other better-for-you beverages on the market but Gusto hopes that consumers' growing desire to protect themselves from infections will convince them to loosen the purse strings.
To read more about the immunity trend, visit https://www.new-nutrition.com/nnbReport/display/195 to download your copy of 10 Key Trends in Food, Nutrition and Health 2021.
Recent blogs