NotCo targets curious foodies with lab-developed milk
---
The Not Company (NotCo) is a Chilean start-up that's aiming to become "the next big thing" on the plant-based scene by offering lab-developed vegan mayonnaise made with chickpeas and canola oil (see Case Study in New Nutrition Business April).
Backed by over $100m in funding from investors such as Jeff Bezos and IndieBio (one of the most prominent biotechnology accelerators in Silicon Valley), NotCo aims to be a disruptive brand for millennials that want to "join a food revolution where healthy eating, sustainability and taste can coexist."
Five years after the company was founded, it is launching in the US – but not with its flagship mayonnaise product, which has been the company's focus in Chile and Argentina, where it has taken a 10% share of the mayonnaise market. Instead, the company is entering the US market with the newly developed NotMilk, said to have been made using NotCo's software platform that analyses the molecular structure of animal foods to derive combinations of plant-based alternatives that most closely resemble the original in taste, colour, and texture.
The milk, which is based on pea protein, is sold with messaging like "Hello curious foodie, welcome to the future" and is available in Whole Food stores across the country. Retailing at $4.99 per 2,200ml, it is premium priced compared to plant milks and dairy milks alike.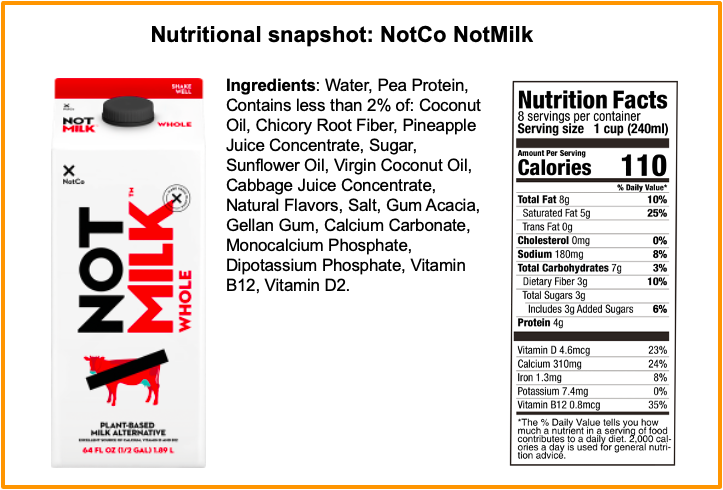 In addition to egg and milk replacements NotCo also offers a meat replacement product in some markets, meaning that it has a somewhat diverse and unique product portfolio: "We are evaluating opportunities across our portfolio to enter the US as the only company that has simultaneously launched products in the market disrupting eggs, dairy, and meat—three massive food and beverage segments," co-founder Matias Muchnick told VegNews.
NotCo was founded by one computer scientist, one biotech engineer and one biochemist – a trifecta that readily caught the attention of Silicon Valley's. Because if there is one thing that Silicon Valley investors believe in, it is that deploying technology is at the root of disruption and success. That is what their experience has taught them. This is the attraction of NotCo and many companies like it. Hence, they are willing to invest far greater sums than regular food and beverage investors in the near-religious belief that 'disruption' conquers all and will always create a big new market.
But if it were up to us, we would not rush to throw any money at a company like NotCo. It may be aligned with what rich investors hope for, and management consultants and journalists do get excited about, but what these groups get excited about are not the same things that excite normal people. In the end, natural tends to win and lab-developed alternatives with long ingredient lists are likely to remain niche – albeit possibly a big niche.
Recent blogs