Taste and naturalness continue to propel protein
---
With a stellar nutritional profile, and zero negative associations, it seems difficult to make a mistake by connecting to the protein trend. But consumers say that certain products with protein are more appealing than others… and that some are just plain wrong.
A survey of consumer views and purchasing behaviours on animal and plant proteins by the International Food Information Council found that most respondents were trying to eat protein at dinner (74%) and lunch (54%). Of the 1009 participants, just 4% said they weren't trying to include protein in their diet. Having a balanced diet is the most frequent reason for trying to eat more protein, with 42% of respondents choosing that answer, followed by 36% who said it helps satisfy their hunger throughout the day.
When it comes to comparing protein sources, most consumers chose natural products that derive from animals, such as meat, dairy and eggs. Among the types of protein that the respondents "heard of and ate at least sometimes", the most popular were eggs (81%), dairy products (76%) and meat from animals (76%).
Among plant-based options, alternatives to meat were the most popular, with 38% saying they ate them sometimes. However, even more people said they were familiar with them, but do not consume them (45%).
The protein sources that people have least awareness of, and aren't interested in, are lab-made. Around 40% said they wouldn't eat lab-grown meat, and over 30% hadn't heard of it.
Lab-meat was also given a resounding "no" when respondents were asked to choose between an original animal protein source they are familiar with, and a product that looks, tastes and costs exactly the same but is made with cell-based meat. Nearly three-quarters (74%) chose the original animal protein.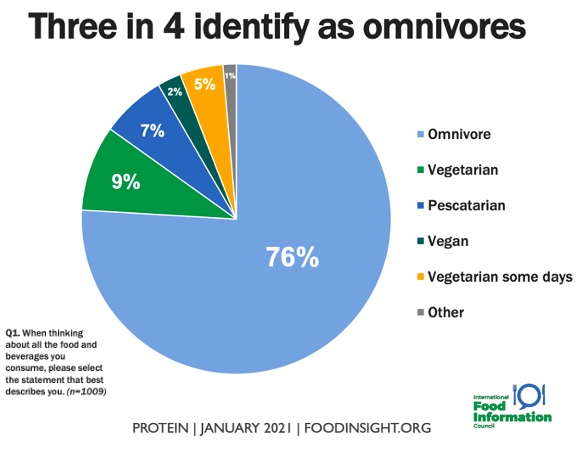 Plant proteins are something people are more open to. Most claim they had tried at least one new type of plant protein in the past year, most often plant-based meat alternatives (28%), and new varieties of milk alternatives (24%). Nevertheless, just 2% of those interviewed identified as vegan, and 9% as vegetarian. The overwhelming majority, 88%, were eating animal food products.
So what makes meat, dairy and eggs more appealing than lab-meat or soy, pea, or other plant-based proteins? Most people ranked "taste" as the number one factor in choosing their protein (25%). Unsurprisingly, only 7% of people said the quality of protein, defined as "the number of essential amino acids it provides and how well the body can use them", was most important. What is also not relevant is environmental sustainability, as just 4% of respondents chose it as important.
Naturalness is another important factor. When shopping for plant protein sources, the description "natural" came in second with 26% choosing that message as most important, while "Good source of protein" was most important for 28% of respondents. When shopping for protein from animal sources, most people prioritise a "no antibiotics" and "natural" description, both selected by 23% of respondents as important.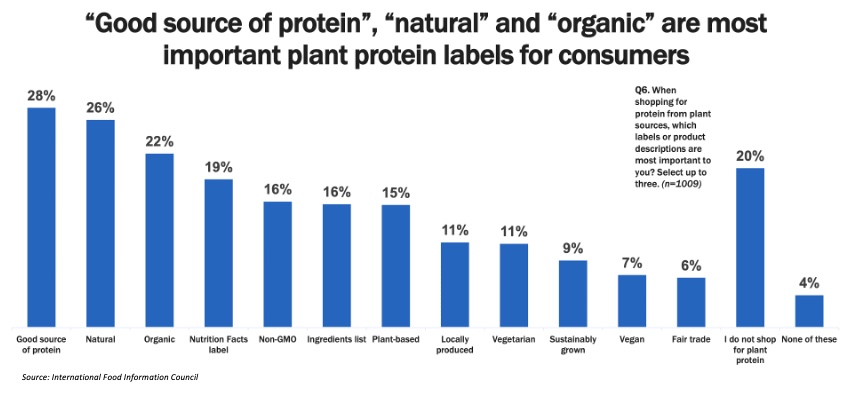 IFIC's report "Consumer Viewpoints and Purchasing Behaviours Regarding Plant and Animal Protein" is available here: https://foodinsight.org/category/consumer-research
Recent blogs