June 2014
Failures in Functional Foods and Beverages
PDF: 117 Pages
Powerpoint: 330 Slides
Price (PDF or PPT): US$530 £320 €400 NZ$630 AU$570 ¥550000
20% Discount if PDF and PPT purchased together
Add to cart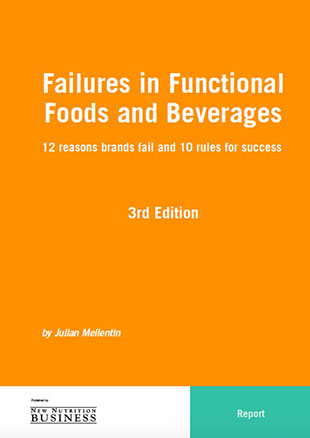 12 reasons why brands fail and the 10 rules for success
"I like to study failure."
Source: American billionaire investor Warren Buffet – and world's 3rd richest person – speaking at a Coca-Cola shareholders' conference.
About this report
The smartest people know that studying the failures of others teaches us how to succeed.
This is the 3rd edition of our massively popular and unique Failures report. A fully-updated analysis, featuring 10 completely new case studies, it incorporates the latest thinking about what causes failure and what cultivates success.
This 117 page report analyses 22 detailed case studies of brands that failed or "stumbled", and sets out clearly:
• The 12 most common causes of failure
• The 10 Golden Rules for Success
Companies big or small can learn and apply the lessons of failures of the last 17 years.