December 2012
10 Key Trends in Food, Nutrition & Health 2013
PDF: 87 Pages
Powerpoint: 250 Slides
Price (PDF or PPT): US$530 £320 €400 NZ$630 AU$570 ¥550000
20% Discount if PDF and PPT purchased together
Add to cart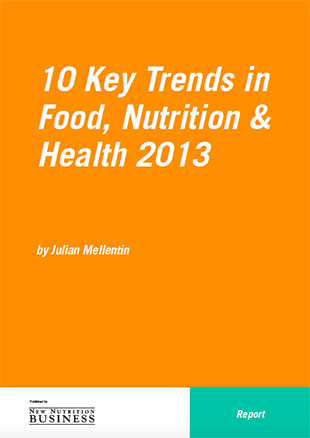 How do you tell the difference between a trend and a fad?
Where is the best place to put your money – and why?
Published every year since 1996, our 10 Key Trends is the only trends analysis that enables you to answer these questions with confidence. That's because our methodology, shown in the report in our unique Trend Diamond, ensures that all the angles of a trend are weighed up – from science through to consumer needs.
About this report
All year long we monitor a mass of data from developments in science through to consumer research and supermarket sales figures.
We analyse this to work out what's truly important, and what's not. That's why companies around the world use 10 Key Trends to formulate their strategy and innovation plans.
This year, for the first time, we show the Trend Diamond that we use to analyse the strengths and weaknesses of each trend. And in addition, we plot the product lifecycle for each trend.
These tools are powerful infographics that enable you and your colleagues to clearly see what's happening with each trend and what direction it's going in.