January 2012
10 Key Trends in Food, Nutrition & Health 2012
PDF: 81 Pages
Powerpoint: 290 Slides
Price (PDF or PPT): US$530 £320 €400 NZ$630 AU$570 ¥550000
20% Discount if PDF and PPT purchased together
Add to cart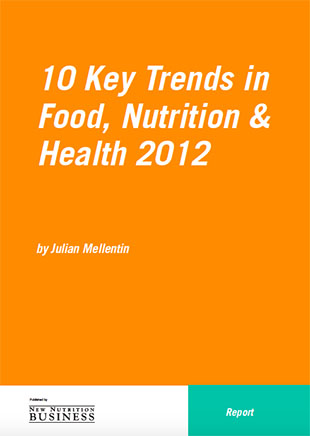 The food and beverage industry's most-used guide to the trends driving the business of food and health. Published each year since 1996, our long-term forecast enables companies to formulate their innovation and strategy plans around our trends analysis – as many, many companies tell us they do.

About this report
The New Nutrition Business annual analysis of the key trends in the business of food, nutrition and health is what we have become best-known for, worldwide.
We identify, rank and forecast the most important trends, using a methodology that takes into account information of many types, from many sources – scientific developments, consumer research and supermarket sales data.
A key trend:
• connects to consumer needs
• has a foundation (of some sort) in science
• can be the basis for a successful brand message
• offers opportunities for genuine innovation.
And because a simple ranked list can't properly show the complexities of the market, we organise the trends in four silos, as follows:
• benefits
• categories
• nutrition needs
• systems
Our analysis shows:
• how each trend is developing
• the innovation opportunities
• which companies and which brands are successful and why
• what the sales trends are
• how products are branded and positioned
• who the core consumers are
• what the implications of developments in regulation and science
• a summary of the success factors for each trend – and much, much more.
In short, everything you need to inform your strategy.