January 2012
Cocoa – a "naturally functional" health ingredient at the tipping point?
Price (PDF): US$530 £320 €400 NZ$630 AU$570 ¥550000
Add to cart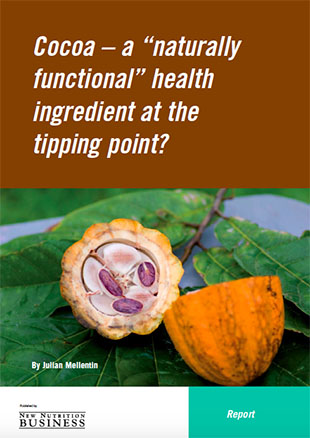 Cocoa has the potential to be a naturally healthy ingredient as successful as cranberries and one that can help create new brands and even new categories. Beverages, dairy and snacks are the areas with most potential, thanks to growing consumer awareness of its health benefits and advances in processing technology that have taken it into new formats.

About this report
For two decades the major cocoa processors have made huge investments in developing the scientific evidence supporting cocoa's health benefits.
Consumers have so far connected those benefits most with dark chocolate – 75% of shoppers are extremely or very interested in dark chocolate for heart disease and antioxidant protection, according to consumer researchers Health Focus International. Sales of dark chocolate have boomed even despite recession, still managing a 9% gain in 2009.
Now companies like Hershey and Mars have developed technologies that enable them to move cocoa far beyond chocolate, making cocoa a credible "naturally healthy" ingredient in snacks and beverages and creating whole new markets.
Both Hershey and Mars have successfully test-marketed new ranges of cocoa-based, all-natural snacks, while Hershey has collaborated with Honest Tea to create the CocoaNova "chocolate drink" brand – "cocoa as consumers have never known it" – based on a proprietary technology.
They are also investing in educating consumers about the specific benefits of cocoa – and creating points of difference for their products, telling consumers, for example, that "all cocoa is not created equal".
It's clear that cocoa is a naturally functional ingredient that is fast approaching a tipping point.