August 2011
Trends and Strategies in Healthy Snacking 15 key case studies
PDF: 130 Pages
Powerpoint: 300 Slides
Price (PDF or PPT): US$530 £320 €400 NZ$630 AU$570 ¥550000
20% Discount if PDF and PPT purchased together
Add to cart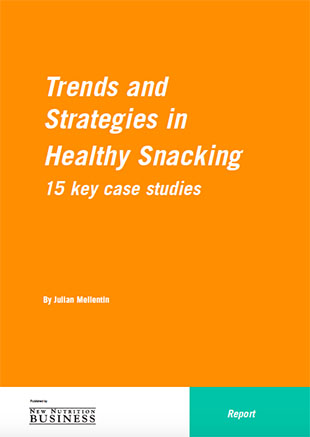 Snacking is the over-arching driver in the food industry, affecting every category. This report examines innovations in format, ingredients and marketing and includes 15 detailed Case Studies of healthy snacking brands (see full list of case studies below). Among the case studies are the three most successful snack launches of the last two years – one of them offering "natural functionality" and fun marketing, another the natural health benefits of fruit, while the third is a brand that has legitimized the idea of snacking at breakfast for slow-release energy.

About this report
This 122-page report is written by experienced food marketers to be a practical guide to strategy:
• The three Key Trends in snacking that provide the greatest opportunities – and which are the focus of the most successful brands – are detailed in a concise 45-page introduction, along with a step-by-step guide to practical innovation strategy and brand positioning for snacks.
• The 15 Case Studies detail which strategies snacking brands have adopted to become successful with oats, wholegrains, fruit and vegetables, protein, fibre, cocoa, nuts and berries.
• Each Case Study addresses packaging, choice of ingredients, nutrition profiles, product messages, marketing communications strategy, pricing strategies (and why some brands are able to earn premium prices), which consumers buy them and why, all supported with supermarket sales data.
• The Case Studies will enable you to understand how to communicate a range of benefits – from "slow-release energy" to "a serving of fruit" – and why some brands succeed and others fail.
This report provides practical insights and examples for any company, large or small, aiming to create a successful snacking proposition and better-manage the risks of new product development and innovation.

Each Case Study gives our usual independent and opinionated analysis, based on interviews with executives at all of the companies concerned, as well as independent industry experts.