July 2011
Opportunities for healthy food and drink brands in the US vending channel
PDF: 25 Pages
Powerpoint: 62 Slides
Price (PDF or PPT): US$530 £320 €400 NZ$630 AU$570 ¥550000
20% Discount if PDF and PPT purchased together
Add to cart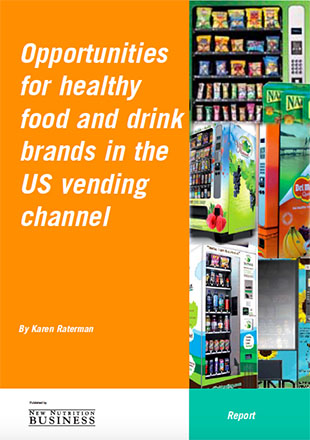 This report explores the growing opportunities for healthy brands to sell their products through the vending channel in the US – a channel that's anticipating double-digit growth. It addresses the size and nature of the opportunity and what healthy brands need to know in order to be successful. Among other key factors it addresses pricing, packaging, machine technology, location and branding.

About this report
After a history of false starts, healthy vending is finally taking off in the US.
Double-digit growth: The "healthy" segment of the US vending market is estimated by industry players to be – at best – just 4% of a total vending market valued at $42.9 billion (€30.3 billion), but the consensus is that the healthy sector is growing in double digits and is expected to continue to do so for the next five years while the total market is flat.
Health is seen as an important way for vending companies to rebuild margins – healthy products can increase a vending machine's profitability by between 11% and 17%.
The opportunity for more healthy products to be sold through the vending channel is increasing, thanks to changes in machine technology as much as to the healthy eating trend.
An opportunity for small brands: Although companies are clear that the vending channel won't transform your business, it is equally clear that it can make a difference to the sales of small brands and regional or local brands.
Healthy and better-for-you brands are seeing value in getting their products in front of new customers who are looking for an alternative. "We have a superior tasting product and our goal is to get it past as many consumer lips as possible," says Sweet Leaf Tea's national food service manager Bryan Baralt. Vending presents one way to do this and the company expects to see 50% growth in the channel from when it started in the first quarter of 2010.
One vending company described how small local brands with a story, brand values and/or packaging that's interesting to the consumer can quickly go viral. This report includes a detailed Case Study of how a small, flexible company was able to adapt its products to fit in a vending machine and meet school nutritional criteria. It is now the best-selling cookie for one of the leading vending companies.
This 25-page report explores:
• What types of healthy products are in growing demand by vending companies.
• How advances in technology are opening up opportunities for healthy vending fare.
• How federal regulations regarding product nutrition are pushing vending operators toward healthy products.
• The three keys to vending success for makers of healthy products.
• Which locations work best for healthy vending.
• How best to partner with vending companies.