November 2010
Smart start-up strategy in healthy food and beverage
Price (PDF): US$530 £320 €400 NZ$630 AU$570 ¥550000
Add to cart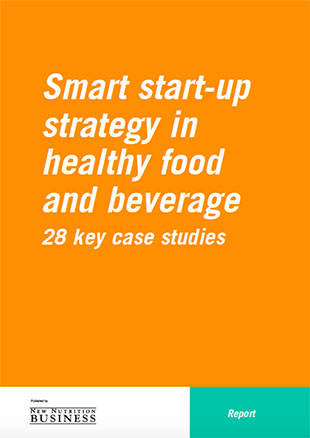 If you have an idea for a new food or beverage with health benefits, or nutrition science that you want to commercialise, how do you successfully take it to market? Starting up a new business in healthy foods and beverages is risky; the cost of marketing is always higher than entrepreneurs believe it is going to be, and the rate of sales growth is always slower. This report sets out the five elements of successful start-up strategy over 21 pages, drawing on lessons from 28 key case studies of recent start-ups, both successful and unsuccessful. All the case studies are based on interviews with the companies themselves to give you a first-hand account of what works and what doesn't, enabling you to maximize your chances of success.

About this report
If you have an idea for a new food or beverage with health benefits, or nutrition science that you want to commercialise, how do you successfully take it to market?
Even a successful serial food entrepreneur such as Steve Demos, who made his fortune by creating the American soy milk market, initially got it wrong with a new start-up, as this report shows. Demos explained that the business plan for his new product had not targeted the right consumer group – a mistake that he fortunately realized in time to remedy.
In the challenge and excitement of planning a new venture, it can be hard to be clear about fundamentals such as: which consumers will buy the product and at what price; how big a group they are; will this be a high-margin business or a high-volume business; and how will the product be distributed, retailed and marketed. Yet it's vital to find the best answers to these questions because the rate of failure in healthy start-ups is more than 95%.
Taking new healthy foods and beverages to market is risky; the cost of marketing is always higher than entrepreneurs believe it is going to be, and the rate of sales growth is always slower.
This report sets out the five elements of successful start-up strategy over 21 pages, drawing on lessons from 28 key case studies of recent start-ups, both successful and unsuccessful. All the case studies are based on interviews with the companies themselves to give you a first-hand account of what works and what doesn't.
Taking together the strategy section and the insights from entrepreneurs this report enables you to maximize your chances of success by:
Making a realistic appraisal of your potential market.
Getting a realistic view of how long it will take you to go from start-up to success.
Getting a clear view about how best to identify and target the right consumer group for your product.
Learning about appropriate marketing guerilla tactics and best practices that you can use in your own start-up.
Using all this information to work out how much capital you will need to fulfill your ambition.
Our case studies cover diverse areas including:
Vegetable juice
Coconut water
Protein
Fibre
Probiotics
Oral health
Calorie-burning
Superfoods
Sports nutrition
Digestive health
Immunity
Snacking
This report is written in our trademark opinionated, data-rich style to provide executives in marketing and technical roles with real-world insights that can be applied in any setting.