July 2009
Organic and all-natural kids? snacks and baby foods
PDF: 42 Pages
Powerpoint: 114 Slides
Price (PDF or PPT): US$530 £320 €400 NZ$630 AU$570 ¥550000
20% Discount if PDF and PPT purchased together
Add to cart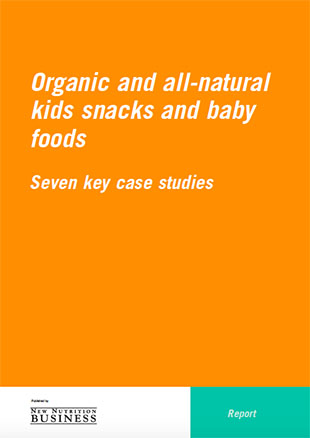 Seven Key Case Studies Health-conscious parents seem committed to continuing to buy healthy food for their children despite the recession, even as they economise in other areas.

About this report
Health-conscious parents seem committed to continuing to buy healthy food for their children despite the recession, even as they economise in other areas.
Sales of the leading organic kids' brands have surprised most commentators by continuing to grow:
In the US, the $100 million (€71.9 million) Annie's brand has recorded sales growth of 25% since September 2008, with no sign of its growth abating yet.
In the UK sales of organic baby food increased by 11.7% while non-organic sales grew at just 7%, with even established organic kids brands, such as Germany's Hipp, growing at 8%.
Many new kid-specific brands have all seen double-digit growth, driven by organic or all-natural brand credentials, even as consumers economized in other areas.
While organic brands have performed well, there are other brands that argue that being certified organic isn't essential – what parents need more is the reassurance that a product is made with ingredients that are "as natural as possible" and free from artificial preservatives, colours and sweeteners.
This 42-page report looks in detail at these different approaches. Using seven detailed case studies we analyse the performance and strategies of leading organic and "all-natural" kids' snacks and babyfood brands in the US and UK.
The report uses sales data, comparisons of product pricing and marketing strategies, advertising messages and claims, as well as interviews with the CEOs at all the companies profiled.
The report summarises what the companies profiled see as the keys to success, discussing the natural vs organic arguments, branding, positioning, pricing, sourcing healthier ingredients and the challenges of securing distribution.