March 2010
Innocent Drinks: seven strategy lessons from the setbacks of Europe's biggest smoothie maker
PDF: 27 Pages
Powerpoint: 106 Slides
Price (PDF or PPT): US$530 £320 €400 NZ$630 AU$570 ¥550000
20% Discount if PDF and PPT purchased together
Add to cart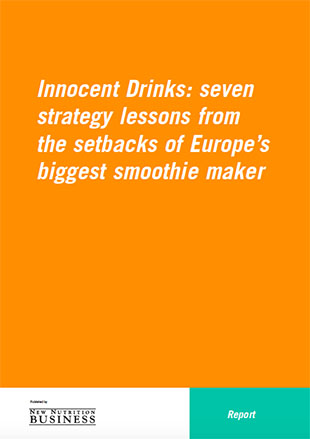 Innocent Drinks rocketed from start-up to over $200 million in retail sales within eight years, creating a new category in Europe – fruit smoothies. But between 2007 and 2009 its sales plunged by 29% and prices were slashed.

About this report
Innocent Drinks rocketed from start-up to over $200 million in retail sales within eight years, creating a brand new category in Europe – fruit smoothies – and enjoying premium prices. But between 2007 and 2009 its sales plunged by 29% (Neilsen), and prices were slashed.
It's easy to blame the economic downturn for Innocent's recent sales decline, but during the downturn many other premium health brands actually grew their sales by 20%-30% even as Innocent's fell.
This unique 27-page report sets out the seven strategy lessons that can be learnt from the experience of Innocent. These cover:
Pricing
Establishing and maintaining a point of difference
Positioning and branding
Communicating health benefits
Packaging innovation
Consumer targeting
Thanks to in-depth interviews with the company's founders since 2002, New Nutrition Business has been in the unique position of tracking the rise of Innocent Drinks to its status as Europe's biggest smoothie brand and the fourth-largest in the world. This report reveals how the company went from start-up to a celebrity brand and the reasons why its strategy meant that it hit trouble in the downturn, even as other health brands prospered.
Innocent's packaging and distribution, marketing communications, brand positioning, pricing strategies and European brand expansion are all examined in detail.