December 2009
10 Key Trends in Food, Nutrition and Health 2010
PDF: 98 Pages
Powerpoint: 309 Slides
Price (PDF or PPT): US$530 £320 €400 NZ$630 AU$570 ¥550000
20% Discount if PDF and PPT purchased together
Add to cart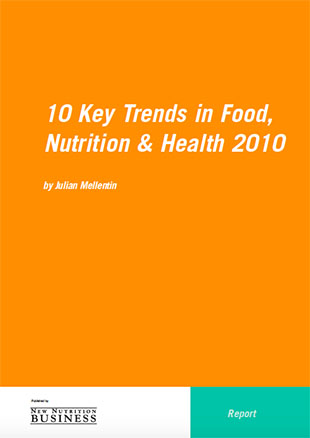 Our annual forecast of the most important current and future trends gives unrivalled practical insights to help you better shape the future of your business. Delivered to you in pdf or as a powerpoint that you can incorporate into your own presentations, our trends report provides you with broad and deep insights ­ all backed with supermarket sales data and our trademark to-the-point opinions ­ as well as a concise bullet-point summary of each trend and the key success factors.

About this report
Whether you are in ingredient supply or consumer foods and beverages, our annual forecast Ten Key Trends provides unrivalled practical insights to help you develop your plans for the year ahead. This year, as he has done since 1995, industry expert Julian Mellentin has analysed trends in food, nutrition and health and picked out the most important ones for anyone trying to shape a better future for their business.
Our research is fantastic value because, unlike other researchers, we're the only dedicated experts in the business of food, nutrition and health.
Delivered to you in pdf format or as a powerpoint that you can incorporate into your own presentations, Ten Key Trends provides you with broad and deep insights – all backed with supermarket sales data and our trademark to-the-point opinions.
Each trend analysis in this report gives you the benefit of a concise bullet-point summary of the trend and of the key factors we believe can contribute to enduring success.