May 2009
Failures in Functional Foods & Beverages: And what they reveal about success
PDF: 98 Pages
Powerpoint: 200 Slides
Price (PDF or PPT): US$530 £320 €400 NZ$630 AU$570 ¥550000
20% Discount if PDF and PPT purchased together
Add to cart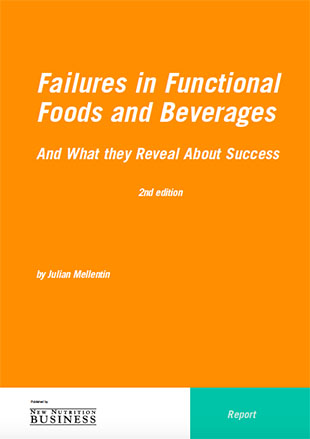 The functional foods market is a complex one. Success with a new product or ingredient is rare. This unique 98-page report examines failures by functional brands and ingredients. It sets out the lessons that can be applied by anyone trying to develop an effective strategy for a brand or trying to commercialise nutrition science and offers concise strategies for reducing the risk of failure.

About this report
The functional foods market is a tough one. Success with a new product or ingredient in this harsh and demanding market is very rare. In fact, failure is far more common than success and most products sell on a niche basis with very few ever graduating into the mass market.
This unique 98-page report examines brands and ingredients that have either been withdrawn from market or have not performed as well as expected. It sets out the lessons that can be applied by anyone trying to develop an effective strategy for a brand or trying to commercialise nutrition science.
The categories covered in this report are:
Dairy drinks and yoghurts
Breakfast cereals
Water
Juice drinks
Soy drinks
The health benefit platforms covered include:
Weight management (satiety and calorie-burning)
Heart health (cholesterol-lowering, blood pressure-lowering)
Bone health
Joint health
Beauty and skin
Energy
Digestive health
Brain and eye development
Ingredients featured include:
Probiotics
Prebiotics
Fibre
Wholegrains
Plant sterols and stanols
Green tea
Omega-3
CoEnzyme Q10
Protein
Soy
Calcium
Glucosamine
Antioxidants
The report is in two parts. Part I is a concise 40-page analysis setting out:
Which brand strategies are most effective and why
Which ingredient strategies are most effective and why
Part II consists of 15 detailed case studies which summarise:
success factors, and common causes of failure
common lessons for pricing, positioning and marketing
key lessons in selecting ingredients
key lessons in communicating benefits
how to extend an existing brand
how to create a successful new brand
Each case study is based on interviews with executives at the companies concerned. They speak with considerable frankness about challenges they have encountered. We have set their opinions in the context of our own analysis – which means that we do not always agree with some companies' self-analysis – to create a template that will be useful to anyone trying to develop a new product with health benefits or devise a strategy in health.