September 2008
Cranberries: How Ocean Spray made them the world's most successful superfruit
PDF: 35 Pages
Powerpoint: 61 Slides
Price (PDF or PPT): US$530 £320 €400 NZ$630 AU$570 ¥550000
20% Discount if PDF and PPT purchased together
Add to cart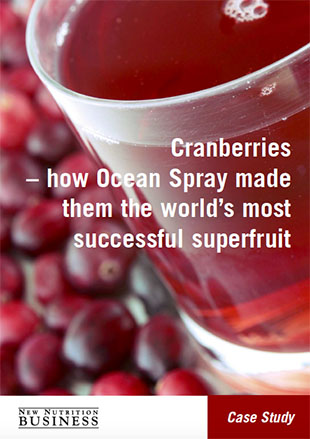 Cranberries' rise to success as "the original superfruit" is well-known. Less well-understood is that cranberry sales actually declined for several years. That decline was turned around by a focus on innovative new product development and effective brand communications. This 35 page case study shows how Ocean Spray - and other companies in the cranberry field - have already moved cranberry far beyond simple cranberry cocktail.

About this report
Cranberries' rise to success as "the original superfruit" is well-known. Less well-understood is that cranberry sales actually declined for several years. That decline was turned around by a focus on innovative new product development and effective brand communications.
This 35 page case study shows how Ocean Spray - and other companies in the cranberry field - have already moved cranberry far beyond simple cranberry cocktail.
We look in detail at:
The rationale for the launch of energy drinks based on cranberry as an "all-natural" energy drink for women.
Brand extensions that have extended cranberries' appeal to consumers looking for lower sugar and "pure juice" choices.
Successful snack innovation with the fast-growing Craisins brand
The growth of the cranberry ingredient business and its importance in extending cranberries to new users and new formats.
The impact of the approval of a health claim in France
Health-focused marketing communications
Cranberries' successful inroads into dietary supplements
This practical analysis includes examples of the brand's communications and is illustrated with supermarket sales and ingredient sales data.
Packaging and distribution, marketing communications, brand positioning and NPD are used to illustrate how simple strategies have brought major success. They are set out in a way that is intended to enable anyone to see what lessons they can apply to their own beverage or snack business and what lessons should be applied by anyone with ambitions in superfruits.