September 2008
Anlene: What makes the world's biggest bone health brand so successful?
PDF: 28 Pages
Powerpoint: 50 Slides
Price (PDF or PPT): US$530 £320 €400 NZ$630 AU$570 ¥550000
20% Discount if PDF and PPT purchased together
Add to cart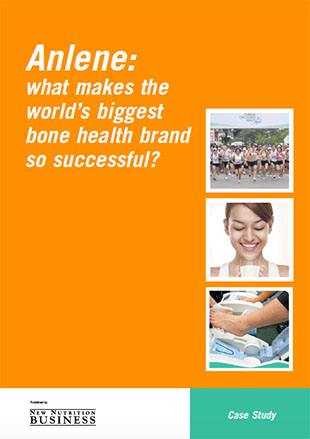 Positioned as "the expert in bone nutrition", New Zealand dairy giant Fonterra's Anlene brand is the biggest bone-health brand in the world.

About this report
Positioned as "the expert in bone nutrition" and as a brand with a positive message about "movement" and a healthy lifestyle, Anlene is one of the biggest dairy nutrition brands, its success based on its appeal to the lifestyle needs of women in mid-life.
Marketed by dairy giant Fonterra, it has become one of the most successful health brands in Asia.
This concise 28 page case study shows how this brand's strategy successfully combines:
Continuous innovation in science and technology
A clinically proven position
Innovative and marketing communication techniques
Packaging innovation, such as a profitable extension into a daily dose format
A premium price position
This practical analysis includes examples of the brand's communications and is illustrated with supermarket sales data.
For any company, large or small, looking to create a successful health proposition the story of Anlene shows what can be achieved in a tough, highly competitive market. Anlene's strategies are not elusive, nor unachievable – they are instead steps that any company can easily take to propel its brands to new levels.