February 2008
10 Factors for Success in Energy Drinks – Europe and the U.S.
PDF: 49 Pages
Powerpoint: 99 Slides
Price (PDF or PPT): US$530 £320 €400 NZ$630 AU$570 ¥550000
20% Discount if PDF and PPT purchased together
Add to cart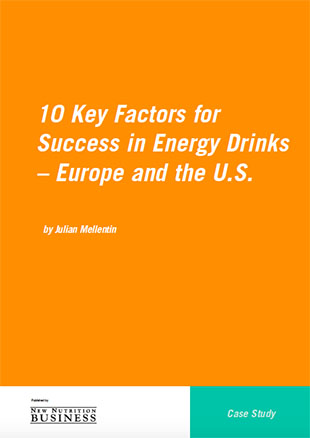 This report uses case studies from the energy drink market, supported by supermarket sales data and primary research, to:
Set out the 10 Factors for Success in Energy Drinks and show how they can be applied in other beverage categories.
Examine how the energy drinks category – in common with many categories – is fragmenting into a series of niches and what that means in terms of future beverage strategy.
Although this report looks broadly at strategy and success in the energy drinks category in the US and Europe – examining the key players, the new entrants, the new niches within the market and the market data – inevitably it is Red Bull which dominates our discussion.
Red Bull is the brand which created and defined the energy drinks category, giving birth to a business worth $10 billion (€7 billion) in Europe and the US, where it still holds an impressive 60% market share.
Innovations in benefit, packaging, marketing and distribution have led to Red Bull's dominance, and these are among the 10 Factors for Success this report analyses in-depth. These Factors include:
New category creation: Creating a new category based around an innovative product is very rare but it is one of the most successful and well-proven strategies in the global market and it is also the strategy pursued by some of the most conspicuously successful companies of the last decade.
A benefit that consumers can feel: Energy drinks, like all the best performing functional foods, deliver a health benefit that is immediately effective and detectable. One of the biggest advantages a product can have is to deliver a benefit that consumers can quickly see or feel. It is a key way of creating brand loyalty.
Brand focus: Marketing is not a battle of products, it's a battle of perceptions. To be prominent in consumers' minds you need a clear, consistent and uncompromising brand position with a clear and consistent benefit statement supported by long-term marketing expenditure.
Beyond the bullring – a future of niches for energy drinks
The energy drink market is now in the process of fragmenting into a series of niches. This trend is being seen across the board in food and health, with most functional and nutritional foods selling on a niche basis. The new niches opening up in energy drinks include:
Natural energy. The message that a food is naturally healthy is one of the most persuasive in food marketing. Fruit-based energy drinks, such as Ocean Spray Cranergy and Del Monte Bloom Energy are seeking to capitalise on this trend.
Women. Products targeted at women are proliferating, but this segment has its problems and few brands are making headway.
Men. An adrenaline-rush, all-male approach can be guaranteed to alienate many consumers – but that is the nature of niche brands. They are intended for a specific group and it's a message that works for young men.
Mood and brain. A new trend but one which offers opportunities for strong niche brands founded on good science.