November 2016
10 Key Trends in Food, Nutrition & Health 2017
PDF: 124 Pages
Powerpoint: 316 Slides
Price (PDF or PPT): US$650 £450 €525 NZ$890 AU$825 ¥69000
20% Discount if PDF and PPT purchased together
Add to cart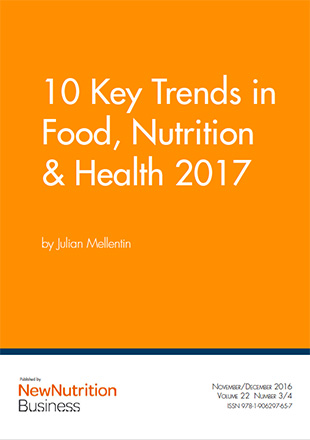 The New Nutrition Business 10 Key Trends report is the only trend analysis dedicated to the business of food and health - and the only one that will help you spot the difference between an enduring trend and a fad.

A small but growing number of consumers are taking personalization to the next level, such as a genetic profile, or metabolism and disease risk via DNA tests. The power of this trend is reflected in the decision by food giant Campbell's to invest $32 million in Habit, a startup delivering personalized nutrition in an accessible way.
Personalized nutrition services also include tests for biomarkers for chronic inflammation, connecting to Key Trend 5: Inflammation. It's a trend that seemingly faces several challenges, but if you want to know what the next gluten-free" is going to be – this is it. Consumer awareness of inflammation is slowly rising, with "naturally functional" anti-inflammatory ingredients such as turmeric attracting much attention.

Some people have long argued that foods designed for elite athletes would become mainstream. However, by far the bigger trend is one that is going in the opposite direction (Key trend 3: Sportification). Natural foods are becoming more attractive in sport. Regular food companies, that are not sports-oriented, are finding success if they attach their product to consumption for sport.

Digestive wellness is a benefit platform entering a new era thanks to new technologies and new understanding of the effects that gut health has on overall health. Key trend 1: Digestive Wellness 2.0 explains that consumers want to feel the benefit – and they are willing to try many routes to get it.