November 2014
The Snackification of Breakfast
PDF: 65 Pages
Powerpoint: 130 Slides
Price (PDF or PPT): US$530 £320 €400 NZ$630 AU$570 ¥550000
20% Discount if PDF and PPT purchased together
Add to cart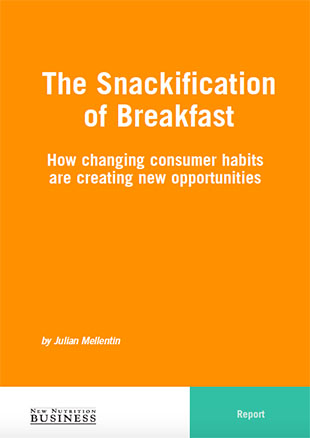 How changing consumer habits are creating new opportunities
Breakfast has become one of the most fought-over battlegrounds in food and health, a battle fuelled by consumers' need for easy and quick meals in the morning – and by two massively successful disruptive innovations, Belvita's breakfast biscuit and Up & Go's liquid breakfast. This 65-page report shows how, around the world from Asia to America, breakfast is being "snackified". This means a wealth of new opportunities for companies in every food category.
About this report
Everyone wants a slice of breakfast: Every type of food or beverage company, in every category, either is looking at what they can do to get their own slice of the breakfast market or is in the process of launching or building up products.
Markets are being transformed: In 2014, sales of breakfast cereals in the US fell by 5% – equivalent to $300 million (€236 million). Of this number, $70 million switched to one brand – Belvita. The rest switched to a host of small brands. It's a similar story in other markets.
Five success factors: Belvita, Oat So Simple and Up & Go are market-changing innovations that work because they deliver on the five factors proven to be key to success in the breakfast category. The report describes these five factors and how to apply them to your own product developments.
Give consumers what they don't yet know they need: The big successes so far, illustrated by the five case studies in the report, show that any company with ambitions in breakfast should not rule out new product ideas because they are unfamiliar to consumers or too innovative.