Muller UK's health make-over falls flat
---
Companies in which senior management has had a creativity by-pass love to use 'health' as a way to reinvent a tired old-brand that's in long-term decline. It's a common strategy – and sometimes it works. But it hasn't for Muller UK. The German dairy group was paragon of creativity and innovation 25 years ago. There's little sign of either of those virtues today.
In May last year Muller announced it was giving a sugar-reduction make-over to its Muller Light, low-fat yoghurt brand – for many years the biggest yoghurt brand on the UK market.
Muller Light was relaunched with a fanfare, with sugar content down 28% and the ability to claim 'no added sugar'.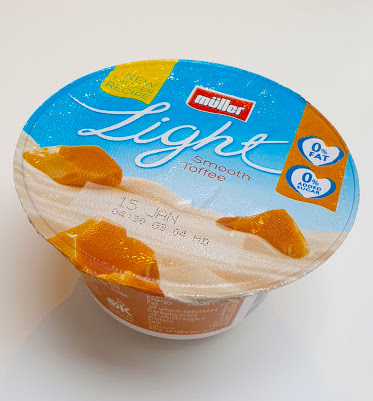 Sounds good, doesn't it? Except Muller Light still has a packaging design that looks like something from the 1990s. Given the 'brand from long-ago' look of Light, it was a health make-over that wasn't going to make a difference – as we tweeted at the time.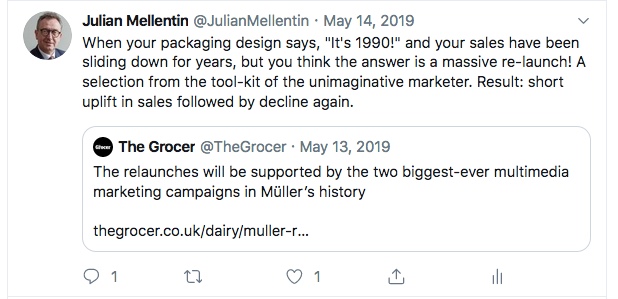 Things have turned out even worse than we imagined. According to Nielsen data, Muller Light's sales fell by 18.3% in 2019 – the biggest decline of any UK yoghurt brand. The category also declined, but by a less severe 2.5%.
It seems that 'less sugar' may not motivate everyone. In fact, 'less sugar' is almost becoming a category standard. Not to mention the fact that 'low fat', while still popular with most Brits, is at the beginning of a long-term decline. Throw in a dated brand image and it's easy to see why Muller's re-launch disappointed.
Muller could learn from its peers – companies like Arla and Danone – and from challenger brands like The Collective and create new propositions with new benefits. But Muller's senior management has allowed itself to be by-passed by the trends. And now it may be too late
Recent blogs